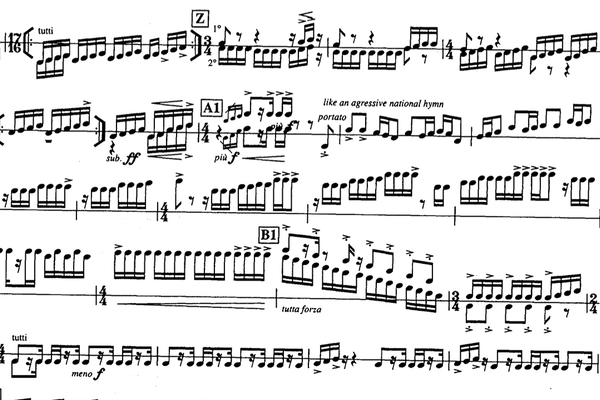 Detail from the score of Worker's Union
The Art of Andriessen
Concert: Thursday, March 18, 8:00 p.m.
Location and format to be determined
$15
Pre-concert talk: 7:30 p.m
Artist Conversation: Tuesday, March 16, 5:00 p.m.
Location and format to be determined
Free
The music of Dutch composer Louis Andriessen is visceral, intense, challenging, and kinetic. This concert features two of Andriessen's most important and influential works, performed by New College of Florida students and professional musicians from the Sarasota Community. These pieces, composed one year apart, are raucous breakthroughs that remain startling over four decades later.
Worker's Union, from 1975, calls for "any loud-sounding group of instruments" to perform a continuous and propulsive single line of music.
In 1990, Andriessen wrote, "Worker's Union was originally written for the orchestra De Volharding (Perseverance), in which I myself figured as a pianist at that time. This piece is a combination of individual freedom and severe discipline: its rhythm is exactly fixed; the pitch, on the other hand, is indicated only approximately, on a single-lined stave. It is difficult to play in an ensemble and to remain in step, sort of thing like organising and carrying on political action."
For more information, we recommend this great listener's guide on Worker's Union from the London Sinfonietta.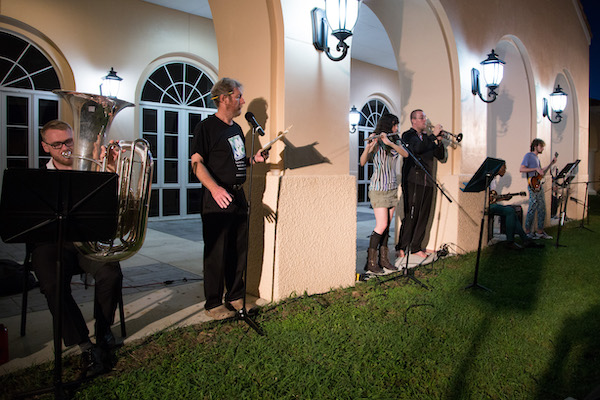 Performers in the PepsiCo Arcade
photo credit: Nancy Nassiff
In Hoketus from 1976, Andriessen employs an ancient musical device, the hocket, in which a single musical line is split between two spatially separated groups. He writes, "Hoketus is the result of the minimal art project I started in January 1977 at the Royal Conservatory in The Hague. This project's purpose was to study the history of the American avant-garde movement both theoretically and practically, and I intended to finish the project by performing a composition that, making use of certain stylistic devices of minimal art, would at the same time criticise this style. The principal quality of minimal art compositions is the consistent limitation of musical material: the advantage is that all possibilities of one single musical aspect (usually rhythm) can wholly be explored and worked out. It is true that this is at the expense of other musical aspects.
"Hoketus, too, has only one musical subject: the hoketus. The hoketus is a stylistic device of the Ars Nova (14th century, Machaut and others): the melodic tones are divided between two or more descants.
"The ensemble Hoketus consists of two identical quintets: panflute, piano, Fender-piano, bass-guitar and percussion. The pitch material of both groups is (nearly) identical. This applies to the rhythm as well. It is, however, complementary: in Hoketus the groups never play simultaneously. What makes the piece Hoketus differ from most minimal art compositions is that the harmonic material is not diatonic but chromatic, and that it radically abandons the tonal continuous sound-masses characteristic of most minimal art, with the inclusion of all accompanying cosmic nonsense."
Tickets
Tickets are FREE for New College students, faculty, and staff—just bring your NCF ID to the concerts. For everyone else, single event tickets are $15, and season tickets to all four concerts are a bargain at $50. Admission to all of our Artist Conversations is free for everyone. Concert admission is also free for students, faculty, and staff of SCF, USF Sarasota-Manatee, Ringling College of Art & Design, Eckerd College, FSU/Asolo Conservatory, and Booker High School—please bring your school ID. Visit our Tickets page for details.

All NMNC venues are ramp accessible.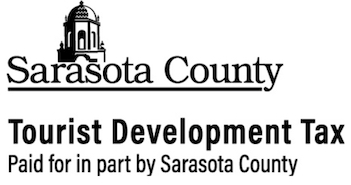 Support for this season was provided by a grant from the Andrew W. Mellon Foundation.