Inter/Action:
New works featuring Mark Dancigers,
New College students, and Special Guests
Composer and electric guitarist Mark Dancigers returns to New College as the college's first Professor of Digital Media and Music. Inter/Action will engage the possibilities of digital media through works that explore sound, music, movement, and images. The center of the concert will feature When It Rains, It Rains, a world premiere work with sound derived from rainfall data from eight locations around Sarasota (played back through eight speakers around the auditorium). Projected video and dancer/choreographer Xiao-Xuan Yang Dancigers will add visual and kinetic interest, and New College students Timothy Abramov (synth), Sullivan Boyd (violin), Laila Kalantari (synth), Max Kucera (guitar), Akiva Packouz (guitar), Rose Schimmel (clarinet), Rolando Tate (voice), and Zulfiia Tursunova (piano) will improvise to the playback.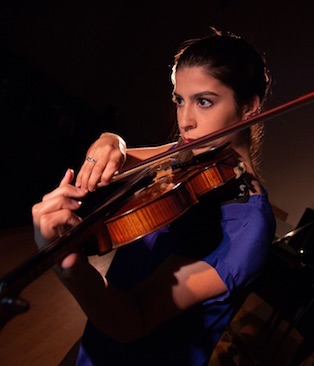 Samantha Bennett playing Skyline
photo credit: Nancy Nassiff
The concert will also feature two new works by Dancigers for electronics and acoustic instruments, Skyline featuring Principal Second Violin of the Sarasota Orchestra and Co-Artistic Director of ensemblenewSRQ Samantha Bennett and Everything Happens for the First Time with Brad Williams, Principal Trombone for the Sarasota Orchestra.
Dancigers is no stranger to New College. In addition to two appearances as guitarist and composer for NOW Ensemble, for several years he was Visiting Assistant Professor of Music here, filling in while NMNC Director Stephen Miles was Provost. While here he led students in many performances, including the Open Instrumentation Ensemble, the DIY Ensemble (which created many of their own instruments), and NEWCLOrk, the New College Laptop Orchestra.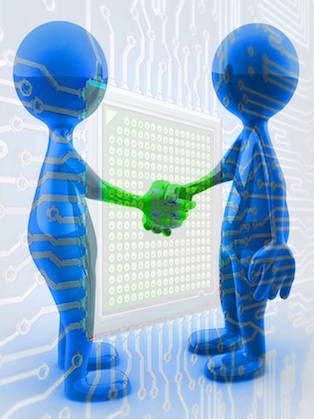 New! Watch video of some of the concert, below!
Concert: Saturday, November 10, 8:00 p.m., Mildred Sainer Pavilion
($15, free with subscription)
Pre-concert talk: 7:30 p.m.
Artist Conversation: Thursday, November 8, 5:00 p.m., Mildred Sainer Pavilion (free)

Video of Brad Williams playing Everything Happens for the First Time at our concert
Video of When It Rains, It Rains
Video of Mark Dancigers playing his Jehanne, Mvt. 1
Tickets
Tickets are FREE for New College students, faculty, and staff—just bring your NCF ID to the concerts. For everyone else, single event tickets are $15, and season tickets to all five concerts are a bargain at $60. Click here to purchase tickets on line. Admission to all of our Artist Conversations is free for everyone. Concert admission is also free for students, faculty, and staff of SCF, USF Sarasota-Manatee, Ringling College of Art & Design, Eckerd College, FSU/Asolo Conservatory, and Booker/VPA High School—please bring your school ID. Visit our Reservations page for details.

All NMNC venues are ramp accessible.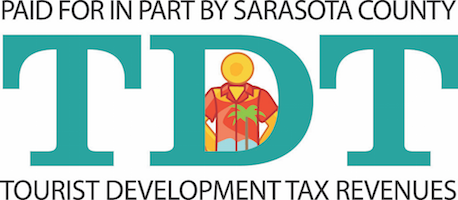 Paid for in part by Sarasota County Tourist Development Tax revenues.
Support for this season was provided by a grant from the Andrew W. Mellon Foundation.