Third Coast Percussion:
Points of Contact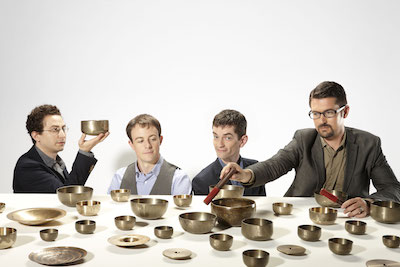 Third Coast Percussion
photo credit: Saverio Truglia
Concert: Saturday, April 30, 8:00 p.m., Club Sudakoff ($15, free with subscription)
Pre-concert talk: 7:30 p.m.
Artist Conversation: Thursday, April 28, 5:00 p.m., Club Sudakoff (free)
Hailed by The New Yorker as "vibrant" and "superb," Chicago's Third Coast Percussion explores and expands the extraordinary sonic possibilities of the percussion repertoire, delivering exciting performances for audiences of all kinds. Formed in 2005, Third Coast Percussion has developed an international reputation with concerts and recordings of inspiring energy and subtle nuance.
These "hard-grooving" musicians (New York Times) have become known for ground-breaking collaborations across a wide range of disciplines, including concerts and residency projects with engineers at the University of Notre Dame, architects at the Frank Lloyd Wright School of Architecture, astronomers at the Adler Planetarium, and more.
Video of excerpts of a number of pieces performed by Third Coast Percussion
Third Coast's recent and upcoming concerts and residencies include the Metropolitan Museum of Art (NY), Museum of Contemporary Art (Chicago), Town Hall Seattle, Bravo! Vail Valley Music Festival (CO), Eastman Kilbourn Recital Series (NY), St. Paul Chamber Orchestra Liquid Music Series (MN), Atlas Performing Arts Center (DC), Ensemble Music Society of Indianapolis, National Gallery of Art (DC), University of Chicago Presents, and the Austin Chamber Music Festival.
When Third Coast Percussion was here in 2012 they rocked Club Sudakoff, with works ranging from Reich's intense and beautiful Mallet Music to Cage's raucous Third Construction (which featured modified tom-toms called "lion's roars" and rhythmic conch shell blowing). Their precision and control were matched only by their explosive energy. This year they will offer a program featuring a movement from Augusta Read Thomas's acclaimed Resounding Earth, composed for bells from around the world; Glenn Kotche's Wild Sound; and works by Owen Clayton Condon, Thierry De Mey, Isaac Schankler, and Third Coast's own David Skidmore.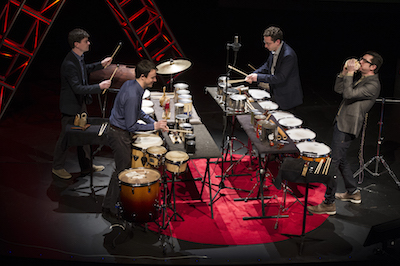 photo credit: Barbara Johnston
". . . a performance by the Third Coast Percussion ensemble that proved just how vital and fertile new American music really is."—The Washington Post
"The musicality and fierce focus of Third Coast Percussion electrified the room."—Sarasota Herald-Tribune
Video of Glenn Kotche talking about Wild Sound
Read a New York Times review of Third Coast Percussion's performance of Augusta Read Thomas's Resounding Earth in New York here, and watch a video of Glenn Kotche and TCP members talking about Wild Sound, just to the left.
Instruments for our concert kindly supplied by Florida Percussion Service.
Tickets
Tickets are FREE for New College students, faculty, and staff—just bring your NCF ID to the concerts or click here for tickets and select "Faculty/Staff/Students" after you select the individual concert(s). For everyone else, single event tickets are $15, and season tickets to all five concerts are a bargain at $60. Click here to purchase tickets on line. Admission to all of our Artist Conversations, as well as the Student Composers Concert and the Electronic Music Concert, is free for everyone. Tickets for non-New College students in the community are $5 at the door with student ID. Visit our Reservations page for details.

All NMNC venues are ramp accessible.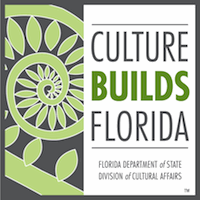 Sponsored in part by the State of Florida, Department of State, Division of Cultural Affairs and the Florida Council on Arts and Culture.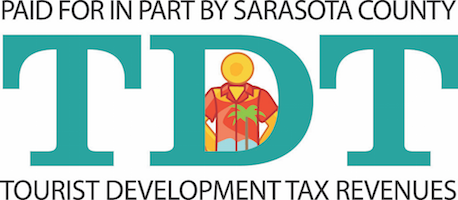 Our visiting artists are paid for in part by Sarasota County Tourist Development Tax revenues.