2007–2008 Season
New Music Cabaret: Silas Durocher and Friends
September
Club Sudakoff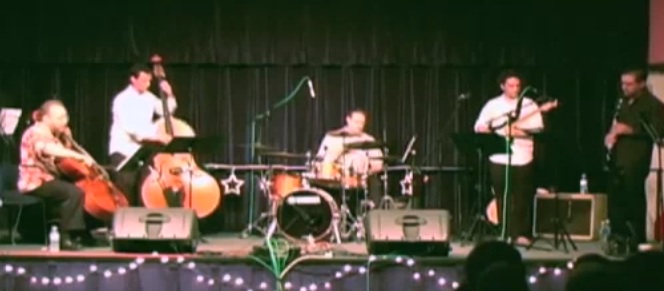 Silas Durocher and Friends in Club Sudakoff
Recent NCF graduate composer/guitarist/vocalist Silas Durocher returned to Sarasota, and he brought along some friends: John Miller on upright bass, Sasha von Dassow on cello, Bharat Chandra on clarinet, and Garrett Dawson on drums. For the first (but not the last) time NMNC transformed the normally drab Sudakoff Center into Club Sudakoff, and the joint jumped with Silas's blend of funk, modernism, and Argentinian rhythms.
Durocher, now based in Asheville, North Carolina, had studied composition and musicology at New College, and fused his studies with his prodigious talent as a guitarist to compose pieces which ran the gamut from a plaintive solo acoustic guitar and vocal ballad to a complex tango. By the end of The Kind of Funk, a three-movement high energy piece that closed the concert, there was a line of dancers snaking through the space and reveling in front of the stage.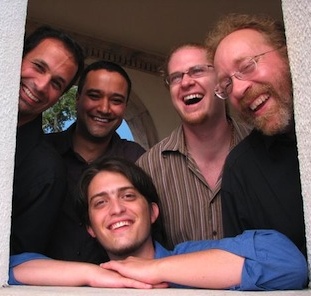 Left to right: Miller, Chandra, Durocher, Dawson, and von Dassow
It was quite a way to inaugurate both the season and Club Sudakoff.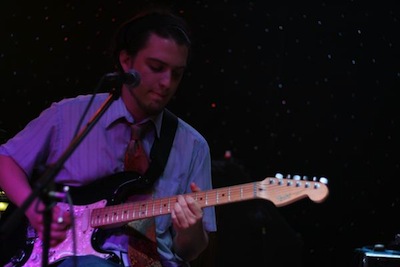 Silas Durocher
The Sylvia Smith Percussion Duo
November
Mildred Sainer Pavilion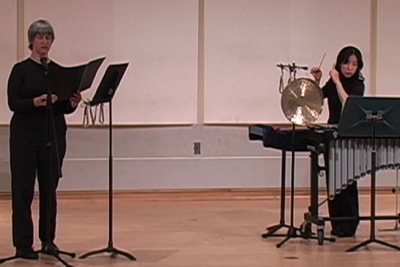 Sylvia Smith and Ayano Kataoka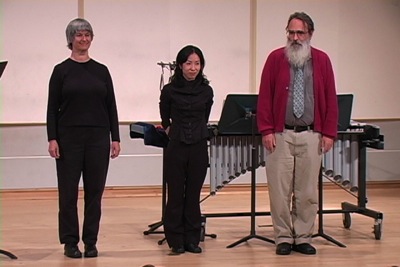 Sylvia Smith, Ayano Kataoka, and composer Stuart Saunders Smith
We presented two nights of theatrical percussion, with the Sylvia Smith Percussion Duo (Sylvia Smith and Ayano Kataoka) performing music by composer Stuart Saunders Smith, who was also in attendance.
On Friday the Duo offered A Night at the "Opera," three theatrical pieces involving props, movement, text, and music. Transitions and Leaps is about process, using a set of rules to transform everyday events into theater. By Language Embellished: I for solo voice with percussion sounds is a journey through the English language in its many forms. The program ended with the recent composition A Viet Nam Memorial, an opera of metaphor involving spoken voice, singing, and percussion.
The second night they presented six more pieces written by Stuart Saunders Smith, including When Music Is Missing, Music Sings for "found" percussion objects, Return and Recall, an experimental piece for solo voice, and . . . And Points North, a solo percussion "opera" in three scenes, telling the story of a Native American woman in search of her spirit.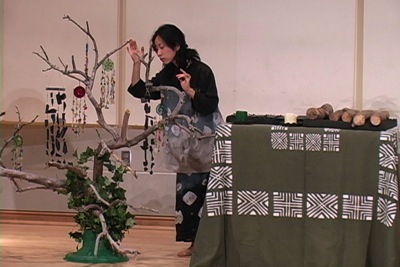 Ayano Kataoka performing . . . And Points North
Kathleen Supové, piano: Digits
January
Mildred Sainer Pavilion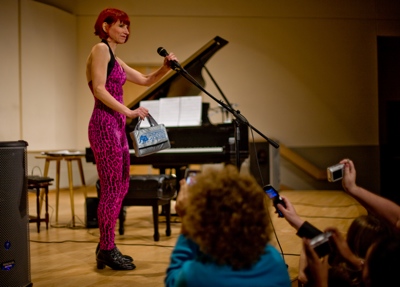 Kathleen Supové with the Ab Tronic
Pianist Kathleen Supové returned to NMNC to give an electrifying performance of recent works. Opening the concert attended by a phalanx of New College student "paparazzi," she launched into Jacob TV's The Body of your Dreams for piano and soundtrack. The recorded audio came from an infomercial for a weight-loss device called the Ab Tronic (and Supové had an actual model to show the audience), and the piece was a high-powered percussive start to the evening.
Supové then segued to Missy Mazzoli's hypnotic and ethereal Isabelle Eberhardt Dremas of Pianos, and on to A Shaking of the Pumpkin by Michael Gatonska, a piece which called for the insertion of a bass drum into the mic'ed body of the piano.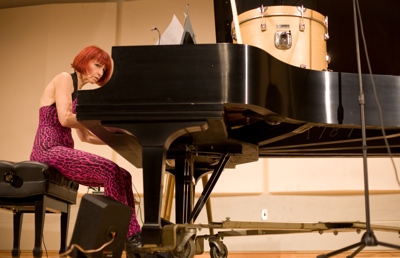 Supové performing A Shaking of the Pumpkin
Composer Randall Woolf's Adrenaline Revival (named after a particularly disturbing scene in the film Pulp Fiction) was next, a piece in several movements, each using a different setting on an audio effects processor to transform the sound of the piano.
And finally, Supové performed Neil Rolnick's Digits, with an audio and video accompaniment of herself playing. At times, projected on the wall behind her, there were hundreds of images of her hands at the keyboard, all playing in sync. It was a masterful way to end the evening.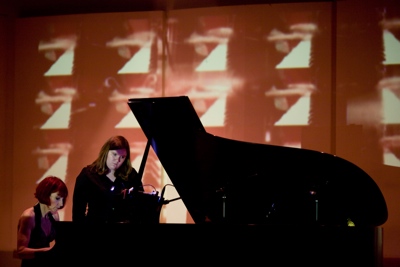 Supové performing Digits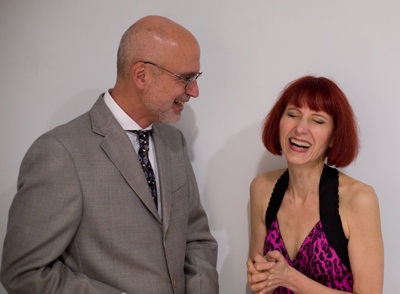 Supové with NMNC Director Stephen Miles at the post-concert reception
photo credits: Danielle Rappaport
The Great Learning, Paragraph 7: Music of Cornelius Cardew
March
mack b gallery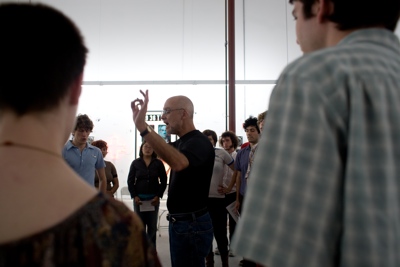 Stephen Miles cueing the beginning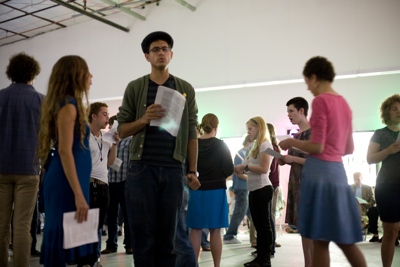 NMNC travelled off campus to give a performance of Cornelius Cardew's experimental vocal work The Great Learning, Paragraph 7. As the piece requires performers to move around between the notes they sing, and as we encouraged audience members to walk among the performers, we chose to present the piece in the airy space of the mack b gallery (now long gone, alas), in one of the hanger-like buildings behind the Sarasota Airport.
More than thirty New College students, as well as NMNC Director Stephen Miles, Technical Producer R. L. Silver, and several audience members, took part. The text is taken from an English translation of one paragraph of Confucius, and each singer chooses his or her own starting pitch. Once the first word is sung a number of times (each line is from one to three words and is given a certain number of repetitions), the singer moves around, listening to others, and chooses a new pitch for the following line from the ones others are singing. In this way, a diffuse cloud of pitches gradually coalesces, but there are several clever procedures that allow for new pitches to emerge.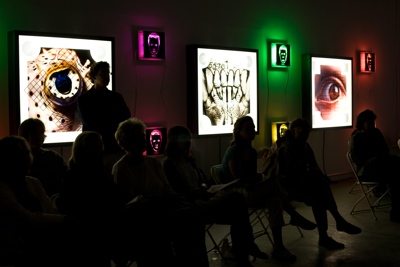 Audience members around the space
The piece, which has been presented numerous times in various spaces over the years by NMNC, is an aural and locomotive kaleidoscope.
photo credits: Danielle Rappaport
The JACK Quartet: Inventions of Memory
May
Mildred Sainer Pavilion
The JACK Quartet
Our season closed with the vibrant JACK Quartet—John Pickford Richards (viola), Ari Streisfeld (violin), Christopher Otto (violin), and Kevin McFarland (cello). This was the first of many JACK appearances at NMNC, and they began with the pointillist, ethereal, and oddly named ST/4, 1-080262 by Iannis Xenakis.
A great contrast was John Zorn's Cat O'Nine Tails, a raucous conglomeration of fifty short musical segments referencing all sorts of genres—including cartoon soundtracks. Charles Wuorinen's Josquiniana was next, a lovely medley based upon vocal works of the 16th-century composer Josquin des Prez.
The concert concluded with the intense String Quartet No. 3 "Im Innersten" by Wolfgang Rihm. The phenomenal control and emotional power evinced by JACK brought the house to its feet.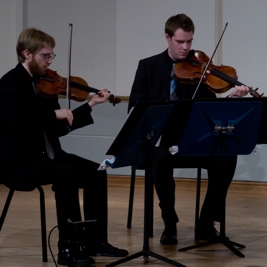 Christopher Otto and John Pickford Richards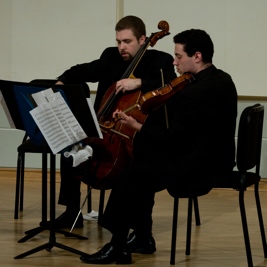 Kevin McFarland and Ari Streisfeld
photo credits: Danielle Rappaport