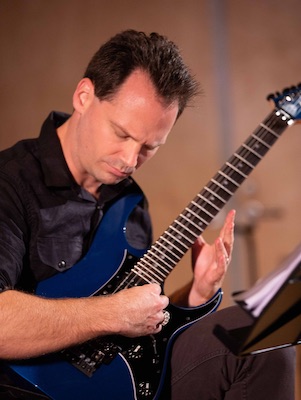 photo credit: Nancy Nassiff
Mark Dancigers
New Music New College Director Mark Dancigers is a composer, electric guitarist, and educator. Praised for his "entrancing" music in the New York Times, Dancigers creates scores that are melodically driven, texturally imaginative, and sonically vibrant.
Dancigers studied composition at Yale (B.A.), the Yale School of Music (M.M.), and Princeton University (PhD). He has previously been on the faculties of Yale College and the University of Redlands School of Music, and is currently Assistant Professor of Digital Media and Music at the New College of Florida in Sarasota. Dancigers enjoys creating new courses and performance experiences with New College of Florida students. Previous projects include the creation of a laptop performance ensemble, an ensemble of entirely home-made and assembled instruments called the DIY Ensemble, and a First Year Seminar Open Instrumentation Ensemble dedicated to the performance of post-minimalist, experimental, and improvised repertoire for any combination of instruments.
His film music has been performed at the Sundance Film Festival, the Nordernzon Performing Arts Festival in the Netherlands, The Athens Concert Hall, Greece, and at The Kitchen, NYC. His orchestral music has been performed at the New York City Ballet, Carnegie Hall, and by the Alabama, Minnesota, and New York Youth Symphony Orchestras. His chamber and electronic music has been performed at venues around the country and internationally including the Apples and Olives Festival, Zurich Switzerland, Carnegie Hall Neighborhood Concerts, the San Diego Museum of Art, the International Trombone Festival, UC Berkeley's Center for New Music and Audio Technologies, UCLA, and many others. His piece Everness for the group yMusic has been nationally aired numerous times on NPR's "Performance Today."
A piece of sound art for 24 sculpted speakers with sculptor Richard Herzog, yours is the natural solitude, was exhibited at the Art Center Sarasota and at the Spartanburg Museum of Art, South Carolina. Dancigers has also collaborated with indie rock artists Dan Deacon and San Fermin for performances in New York's Merkin Hall and Boston's House of Blues. His most recent project is the duo Grand Electric, an ensemble of electric guitar and piano, with the accomplished pianist and Juilliard faculty member Aaron Wunsch.
Dancigers also enjoys the process of creating recordings. As an album producer, his credits include pianist Michael Mizrahi's Currents (2016) and The Bright Motion (2012), which made the Top Ten Best Classical Releases of 2012 in both Time Out New York and Time Out Chicago.