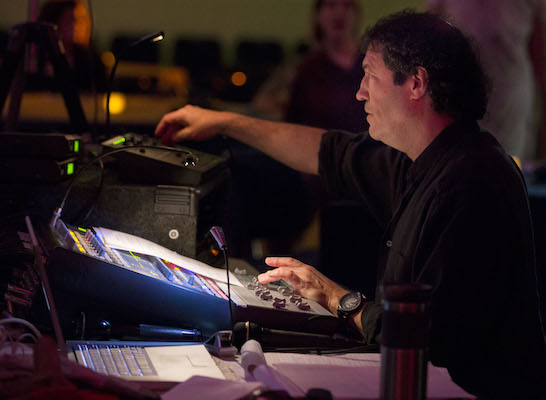 R. L. Silver at the tech desk
photo credit: Nancy Nassiff
Interim Director R. L. Silver
R. L. Silver (also known as Ron, he-him pronouns) has been with New Music New College since its inception in 1998, when he was one of the performers and managed all the tech for the very first performance, the John Cage Song Books in the Ringling Museum. He has been involved in every NMNC performance since then.
Silver takes care of all tech for NMNC concerts (sound, lighting, video) and much other logistical work as Producer. This year he was asked also to be Interim Director, and he has arranged the upcoming season.
He has performed at many New Music New College concerts over the years, including the solo theatrical work Dum by Roger Marsh in 2017's "Dis/Embodied" concert. Silver has also composed works for NMNC performances, including Spin Cycle, where the sound rotates around the audience as performers on all sides pass motifs, and I'm Sorry, Steinway, played on an already-defunct piano by Destructors.
Video of Silver performing Roger Marsh's Dum in 2017
Before moving to Sarasota Silver was the lead singer, songwriter, and keyboard player of the alternative rock band No Radio in New York City.
Silver has presented and led workshop performances at the New Music Gathering and Social Theory, Politics, and the Arts conferences. He holds a Bachelor of Science in Electrical Engineering from the University of Pennsylvania.
He is co-author with New College Professor Miriam Wallace of an essay in the forthcoming collection Frankenstein's Lives: Shelley's Novel as Cultural Phenomenon from Bloomsbury Publishing.