Special Event:

Celebrating Steve Miles
It was such a pleasure to celebrate Steve Miles with all of you! I'd like to share a message to those visiting this page, and say thanks for being here (online!) and for being a part of this celebration.
The striking thing about this series is that it has been guided by a sense of play, of playfulness, that is a result of an open call to participate, a call shared among artists, the audience, students, curious new listeners, diehard fans, classical music heads, experimental artists – no matter where you come from, there is room for you to come and play, participate and contribute, and be a part of this series. 
I noticed this playful approach in Steve's eager embrace of wild performance ideas such as John Zorn's Cobra, a completely improvised game piece with intricate rules and utterly unpredictable sonic results that the audience could move around in. I had heard of concerts that happened before I arrived at New College of student dancers running around outdoors the Caples Arcade to a new arrangement of the Rite of Spring for an augmented Rock Band made up of students and professionals, and enjoyed by all present. Steve also brought down my own young and playful group, NOW Ensemble, several times over the years. Play pervades my strongest associations with New Music New College.
The surprising thing about this idea of play is that it's a vital way to sustain an organization into the future. You might think that the best way to set up an institution, a music presenter, would be to figure out exactly the right way to do things, and set that way in stone, build an audience, and walk into the sunset. But that's not what we have here. It turns out that if you build something that demands the playful participation of all involved, you have something that can refresh and renew with every event. And that's exactly what we will be doing in the future
So I would like to say a huge thank you to Steve for building this playful zone in Sarasota called New Music New College. Thank you for helping us all play and experience together.
Yours,
Mark Dancigers
On Thursday, Dec. 3, 2020, at 5:30 p.m. EST we celebrated the legacy of our founding Director, Stephen Miles. Using Zoom (because of COVID-19) we had more than one hundred people join in as Steve, Mark Dancigers, and Ron Silver spoke, and we shared video contributions of testimonials and music from friends, visiting artists, and alums, all of which you can watch on this page.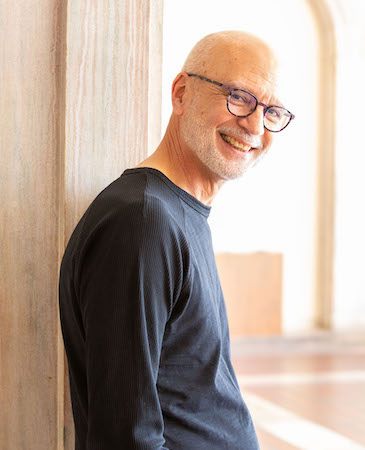 Steve Miles
photo credit: Nancy Nassiff
Kathy Supové and Randy Woolf, Francis Schwartz, and JACK Quartet
This first video includes contributions from Kathy Supové and Randy Woolf (beginning), Francis Schwartz (at 1:05), and JACK Quartet (at 8:17).
Karl Berger and Ingrid Sertso, and Marilyn Lerner
Next we have video of Karl Berger and Ingrid Sertso (beginning), followed by Marilyn Lerner (at 4:52).
Sara Stovall, Jason Carl Rosenberg, Erica Gressman, and Silas Durocher
Finally we have four New College (and NMNC) alums: Sara Stovall (beginning), Jason Carl Rosenberg (at 2:37), Erica Gressman (at 8:46), and Silas Durocher (at 9:22).
After all the video contributions we asked anyone who felt so moved to offer their own recollections, tributes, and thanks to Steve, and to our delight that went on for quite a while!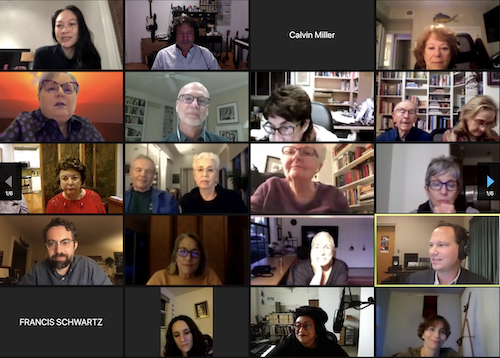 Just some of the people who joined our celebration
Founded in 1998 by means of a groundbreaking and collaborative event featuring the music of John Cage in the galleries of the Ringling Museum, New Music New College has grown into an institution that champions adventurous and scintillatingly performed new music, enriching the life of New College and the Sarasota Community. Steve Miles directed the series until his retirement from the college in spring 2020, having also served as Provost of New College from 2011–2017. He is an active composer, performer, and theorist, focusing on the social dimension of music. Since 1990, he has composed vocal music almost exclusively. His works include Social Studies (2003), musical games for performers and audience, and Living and Dead: The Gettysburg Project (2009), a theater piece co-composed with Margaret Eginton, adjunct professor of theater at New College. Steve is currently co-chair of the board of American Composers Forum.