Claire Chase
For our first in-person events in almost a year, the marvelous and ground-breaking flutist Claire Chase joined us for an Artist Conversation and then two days later performed a solo concert to a limited-number of people outdoors and to hundreds in our live-stream on YouTube.
The concert opened with Felipe Lara's beautiful and haunting Meditation & Calligraphy for solo bass flute, which was punctuated with explosions of breath.
Next came Du Yun's Fast if the Century for contrabass flute—an instrument taller than Chase herself—and electronic playback. Chase explained to our audience that the contrabass flute had a name: Big Bertha, and that name was bestowed by none other than Pauline Oliveros.
Suzanne Farrin's The Stimulus of Loss for flute and pre-recorded ondes Martenot was next. Ondes Martenot is an electonic instrument of the early twentieth century, famous for giving its player control over many aspects of its sound. Farrin herself plays the ondes Martenot on the recording that Chase performed with, as the flute danced and glided (Chase played a flute with a sliding mouthpiece, enabling her to bend notes) in and out of the electronic sounds.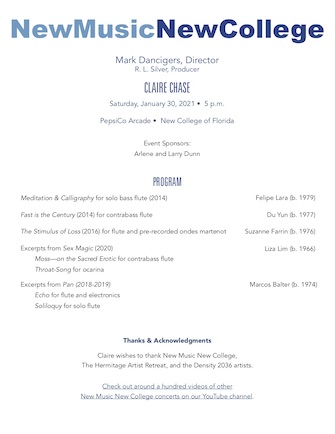 Click here to download a PDF of the concert program
Chase followed this with excerpts from her latest commission, Sex Magic by Liza Lim. Chase performed the world premiere of the entire work just this past December in a live-stream (with no audience) from New York's The Kitchen at Queenslab. We got to witness two movements, Throat-Song for ocarina and Moss—on the Sacred Erotic for contrabass flute.
The concert ended with two excerpts from Marcos Balter's Pan. Echo for flute and electronics had a sparkling and mysterious electronic track that seemed to flow out of the movements of the flute, and Soliloquy for solo flute used delay and reverb to turn one flute into multiples.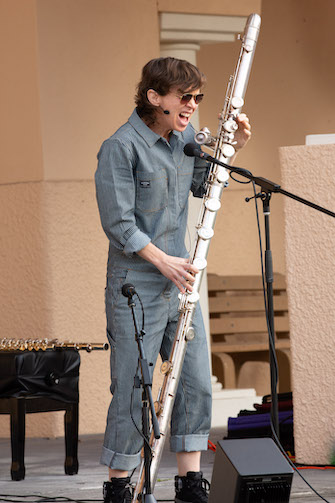 Claire Chase with her contrabass flute "Big Bertha"
Photo credit: Nancy Nassiff
New! Watch video of every piece in the concert, below!
Concert: Saturday, January 30, 5:00 p.m., PepsiCo Arcade
Video of Claire Chase performing Felipe Lara's Meditation & Calligraphy, which opened our concert
Video of Du Yun's Fast is the Century
Video of Suzanne Farrin's The Stimulus of Loss
Video of excerpts from Liza Lim's Sex Magic
Video of the concert's finale, excerpts from Marcos Balter's Pan

All NMNC venues are ramp accessible.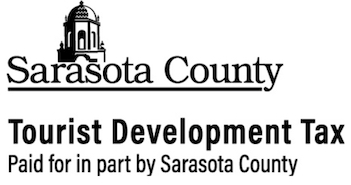 Support for this season was provided by a grant from the Andrew W. Mellon Foundation.