Edited video of the performance.
It's Alive!
A Monstrous Circus On Frankenstein
New! Watch edited video of the concert! →
Concert: Saturday, March 4, 8 p.m. EST
Koski Plaza
$15 (included with season subscription)
Artist Conversation: Thursday, March 2, 5 p.m. EST
Koski Plaza, ACE Lounge
Free
2023 is the 200th anniversary of the first edition of Frankenstein to be published under Mary Shelley's name (the 1818 edition was anonymous); to celebrate this we will present a mashup of Shelley's groundbreaking novel with Circus On by the late-20th Century composer John Cage.
Following Cage's Circus On instructions for turning any text into a performance, we transformed Shelley's original text into 256 Cagean poems called "mesostics." Come to our Koski Plaza and experience the live, multimedia performance as New College students, faculty, and staff, as well as members of the community, perform these mesostics, sounds, and music from the book amid projected images of places mentioned in the text.
Performers will make their monstrous noises from the balconies of our ACE building and from throughout the Plaza itself, so prepare to be immersed in an experience three centuries in the making.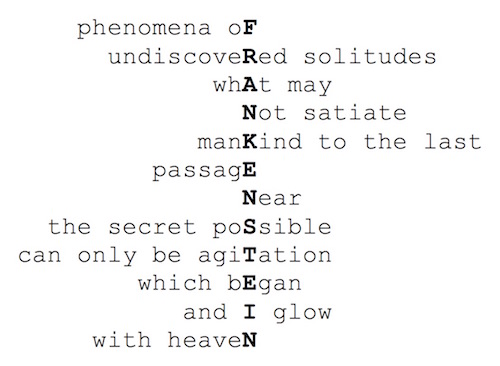 The third mesostic created from the text of Frankenstein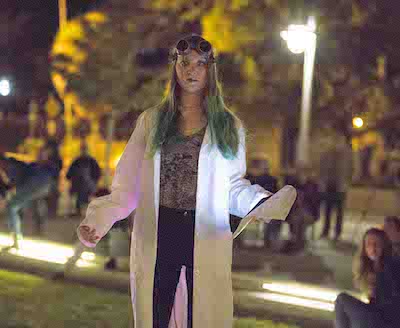 A performer from 2018
photo credit: Nancy Nassiff
We presented a version of this back in 2018 (the bicentennial of the anonymously published edition). You can read more about that performance, and how we generated all the mesostics, here.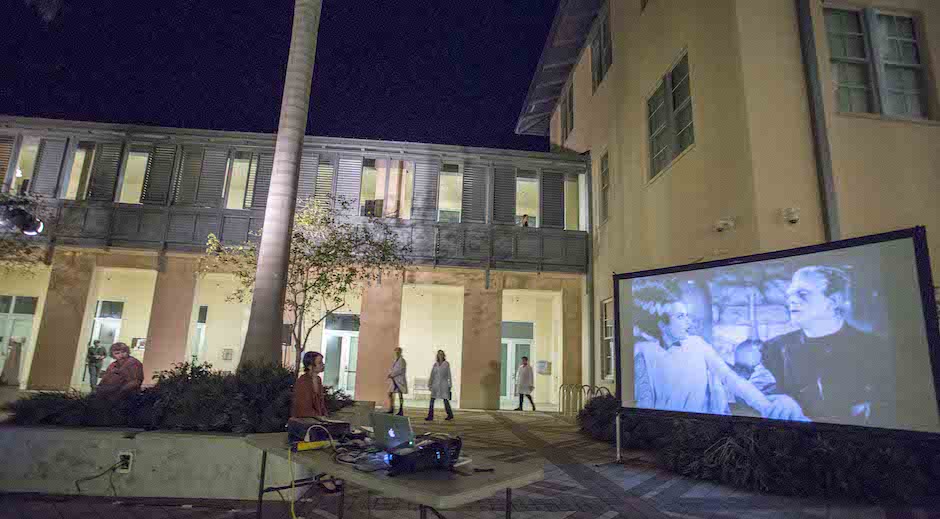 Performers (in lab coats) and a playful video projection from our 2018 presentation
photo credit: Nancy Nassiff
Tickets
Tickets are FREE for New College students, faculty, and staff—just bring your NCF ID to the concerts.
For everyone else, single tickets are $15 each, and season tickets are a bargain at $60. Click here to purchase tickets online. Or visit our Tickets page for other ways to purchase tickets.
Concert admission is also free for students, faculty, and staff of SCF, USF Sarasota-Manatee, Ringling College of Art & Design, Eckerd College, FSU/Asolo Conservatory, and Booker High School—please bring your school ID. Students at other schools can purchase tickets at the concerts for $5 by showing a school ID.
Admission to our Artist Conversations is free for everyone.

All NMNC venues are ramp accessible.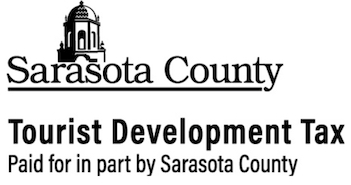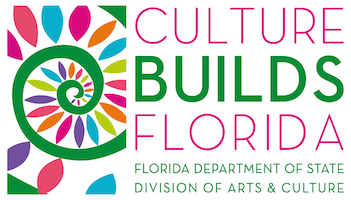 This season is sponsored in part by the State of Florida, Department of State, Division of Arts and Culture, the Florida Council on Arts and Culture, and the National Endowment for the Arts.