Images
Images and Music share a common language of movement. This evening explores moving images and sounds across and between media.
The evening began with a darkened auditorium, as electronic works for four-channel sound surrounded the audience. The new works were composed by New College students Hunter Mundy, Rose Schimmel, Harold Gonzalez, and Rolando Tate, whose piece referenced Debussy amidst the sounds of crashing waves. To follow, pianist Aaron Wunsch played Debussy's L'isle joyeuse.
Then three more New College students performed electro-acoustic works: Aniston Hoffman played her work Unlucky 13, for cello and electronics. Emma Solloway played her Intangible, for trombone and electronics. And Claire Thomas played Missy Mazzoli's Interlude from Song from the Uproar, for clarinet and electronics. (Video of each of these is on this page!)
The next section featured short animations created and scored electronically by New College students, working in pairs. Freddie O'Brion did animation and Hugh Robers scored Remeant; Elizabeth Barrett animated and Gillian Boll scored Kaalya; Cindy Kim animated and Parankush Bhardwaj scored Maggy the Robot; Freddie O'Brion animated and Andre Ayers scored K.O.; Margaux Albiez animated and Lev Gurt scored Rolling Through; Ellizabeth Barrett animated and Emma Solloway scored KAMIKI; and finally, New College professors Kim Anderson animated and Mark Dancigers scored Lost and Found.
The last part of the concert featured Grand Electric, Dancigers on electric guitar and Juilliard Keyboard faculty Wunsch on piano, playing two new pieces, Wunsch's Take Chants and Dancigers's Image and Gravity.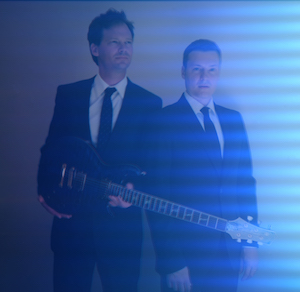 Grand Electric
Photo credit: David Stith
New! Watch video and see photos of the concert, below!
Concert: Saturday, November 16, 8:00 p.m., Mildred Sainer Pavilion
Pre-concert talk: 7:30 p.m.
Artist Conversation: Thursday, November 14, 5:00 p.m., Mildred Sainer Pavilion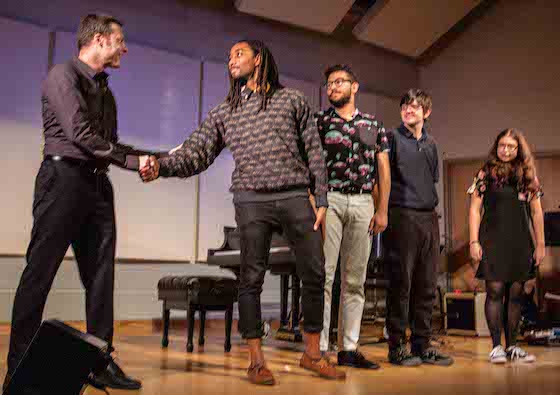 Aaron Wunsch with the student four-channel composers
photo by Nancy Nassiff
Video of Aniston Hoffman performing her piece Unlucky 13
Video of Emma Solloway performing her piece Intangible
Video of Claire Thomas performing Missy Mazzoli's Interlude from Song from the Uproar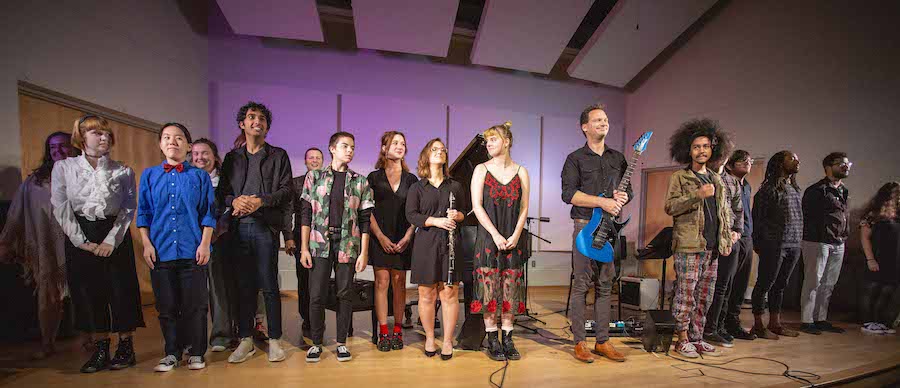 All the composers, animators, and performers
Photo by Nancy Nassiff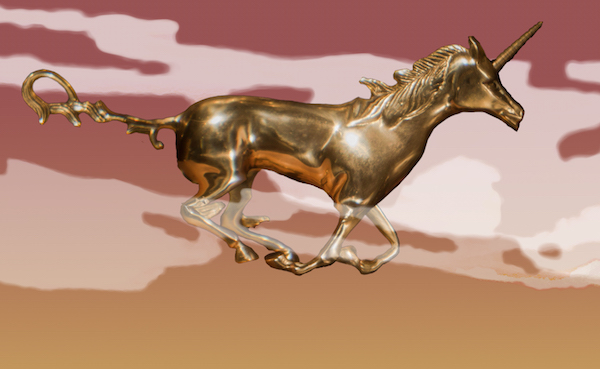 Artwork by Kim Anderson
Tickets
Tickets are FREE for New College students, faculty, and staff—just bring your NCF ID to the concerts. For everyone else, single event tickets are $15, and season tickets to all five concerts are a bargain at $60. Click here to purchase tickets on line. Admission to all of our Artist Conversations is free for everyone. Concert admission is also free for students, faculty, and staff of SCF, USF Sarasota-Manatee, Ringling College of Art & Design, Eckerd College, FSU/Asolo Conservatory, and Booker High School—please bring your school ID. Visit our Reservations page for details.

All NMNC venues are ramp accessible.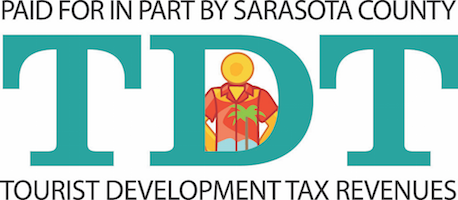 Paid for in part by Sarasota County Tourist Development Tax revenues.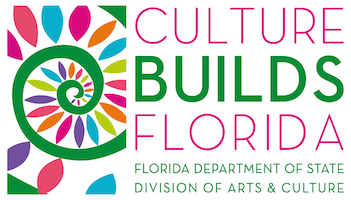 Sponsored in part by the State of Florida, Department of State, Division of Cultural Affairs and the Florida Council on Arts and Culture.
Support for this season was provided by a grant from the Andrew W. Mellon Foundation.