Wet ink Ensemble
photo credit: Alexander Perrelli
Wet Ink Ensemble:
Kate Soper's
Voices from the Killing Jar
Concert: Saturday, April 27, 8:00 p.m. Club Sudakoff ($15, free with subscription)
Pre-concert talk: 7:30 p.m.
Artist Conversation: Thursday, April 25, 5:00 p.m., Club Sudakoff (free)
Kate Soper's Ipsa Dixit, which NMNC presented as a work-in-progress in 2015, went on to be a finalist for the 2017 Pulitzer Prize. Wet Ink returns to NMNC to perform Voices from the Killing Jar, another of Soper's theatrical works. This work from 2010–12 depicts a series of female protagonists caught up in "hopeless situations, inescapable fates, impossible fantasies, and unlucky circumstances." Soper writes, "The women in 'Voices' are bound together by their pain, their silence, their anger, their perception, connected not just via juxtaposition, but through their communal duress. As the narrator of their stories, I empower them by resurrecting their voices, which echo and forge connections across the movements, and by bringing them to life before an audience. I inhabit these voices in part by recalling the emotions and mental states which are the catalysts for their speech and song." NMNC is thrilled to end our season with these vital musicians performing a work of such timely resonance.
But wait—there's more! The concert will also feature a new (so new, it doesn't yet have a title) septet by Wed Ink pianist Eric Wubbels.
Video of Ipsa Dixit Movement I, Poetics, at NMNC's concert
"Dense, wild, yet artfully controlled . . ."—The New York Times
The Wet Ink Ensemble is a unique collection of composers, improvisers and interpreters committed to making adventurous music. With a 19-year history (like NMNC, Wet Ink is about to celebrate its twentieth anniversary) of outstanding achievement in the programming and presentation of contemporary music, Wet Ink has earned an international reputation as one of the most innovative and virtuosic ensembles working today.
Wet Ink most commonly performs as a septet comprised of a core group of composer-performers that collaborate in a band-like fashion, writing, improvising, preparing, and touring pieces together over long stretches of time. This approach has led to an incomparable body of work marked by a keenly developed performance practice, played in concert with ferocity, commitment, and expressivity.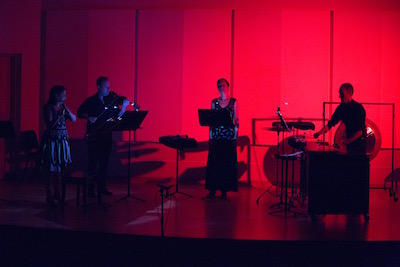 Wet Ink performing Ipsa Dixit at NMNC in 2015
A consistent advocate for young musicians, Wet Ink has commissioned, premiered and recorded numerous works by emerging composers. The group has also collaborated with a wide range of highly-renowned artists including George Lewis, Evan Parker, Christian Wolff, and the AACM composers (during a 2-night retrospective at The Kitchen in 2008), and has introduced NYC audiences to major European figures including Peter Ablinger, Mathias Spahlinger, and Beat Furrer.
"Comprehensively astounding . . . a twenty-first century masterpiece . . . a ninety-minute tour de force in which ideas assume sound and form."—Alex Ross, The New Yorker [on Kate Soper's Ipsa Dixit, written for Wet Ink over six years of collaboration]
photo credit: Nancy Nassiff
Tickets
Tickets are FREE for New College students, faculty, and staff—just bring your NCF ID to the concerts. For everyone else, single event tickets are $15, and season tickets to all five concerts are a bargain at $60. Click here to purchase tickets on line. Admission to all of our Artist Conversations is free for everyone. Concert admission is also free for students, faculty, and staff of SCF, USF Sarasota-Manatee, Ringling College of Art & Design, Eckerd College, FSU/Asolo Conservatory, and Booker/VPA High School—please bring your school ID. Visit our Reservations page for details.

All NMNC venues are ramp accessible.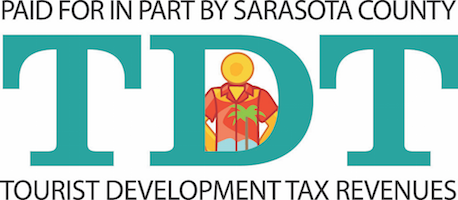 Paid for in part by Sarasota County Tourist Development Tax revenues.
Support for this season was provided by a grant from the Andrew W. Mellon Foundation.