Jen Shyu:
Nine Doors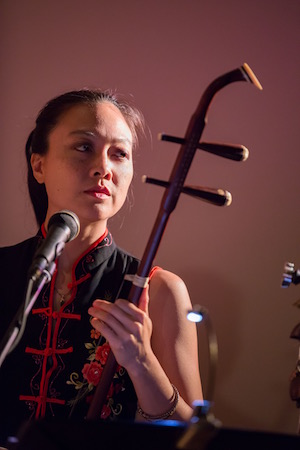 Jen Shyu
Concert: Saturday, January 18, 8:00 p.m., Club Sudakoff ($15, free with subscription)
Pre-concert talk: 7:30 p.m.
Artist Conversation: Thursday, January 16, 5:00 p.m., Club Sudakoff (free)
Jen Shyu is an extraordinary composer, multi-instrumentalist, dancer, and vocalist whose polymath talents are deftly synthesized in the ritualistic solo performance Nine Doors. At the heart of the multi-faceted narrative is a wayang kulit shadow puppeteer's daughter from Indonesia who, in the face of tragedy and trauma, is empowered through encounters with female legends from Timorese and Korean folklore. As she voyages through time and space to meet them, they offer her guidance, strength, and solace. Astonishingly, Shyu sings songs in eight languages, dances, and plays Taiwanese moon lute, Korean gayageum, piano, Japanese biwa, and Korean soribuk drum to tell this transformative, uplifting story. Jen Shyu is a 2019 Guggenheim Fellow and a 2019 United States Artists Fellow. She is peerless.
"Ms. Shyu represents a new kind of improviser-composer-ethnomusicologist hybrid . . . an extraordinary voice."—The New York Times
"One of the most creative vocalists in contemporary improvised music."—The Nation
Video of Jen Shyu performing an excerpt of Nine Doors
photo credit: Nancy Nassiff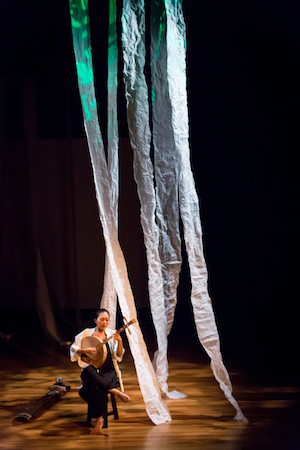 photo credit: Lynn Lane
Shyu is renowned for her dynamic performances. Ben Ratliff wrote in The New York Times that her concerts are "the most arresting performances I've seen over the past five years. It's not just the meticulous preparation of the work and the range of its reference, but its flexibility: She seems open, instinctual, almost fearless." Her duo performance with Tyshawn Sorey was among The New York Times's Best Live Jazz Performances of 2017. Larry Blumenfeld wrote in the Wall Street Journal that "her voice, a wonder of technical control and unrestrained emotion, tells a story dotted with well-researched facts and wild poetic allusions. She claims both as her truths."
Video of Shyu performing Song for Naldo on WNYC
Born in Peoria, Illinois, to Taiwanese and East Timorese immigrant parents, Shyu is widely regarded for her virtuosic singing and riveting stage presence, carving out her own beyond-category space in the art world. She has performed with or sung the music of such musical innovators as Nicole Mitchell, Anthony Braxton, Wadada Leo Smith, Steve Coleman, Vijay Iyer, and Bobby Previte. Shyu has performed her own music on prestigious world stages such as Carnegie Hall, Lincoln Center, Brooklyn Academy of Music, the Metropolitan Museum of Art, Rubin Museum of Art, Ojai Festival, Ringling International Arts Festival, Asia Society, Roulette, Blue Note, Bimhuis, Salihara Theater, National Gugak Center, National Theater of Korea and at festivals worldwide.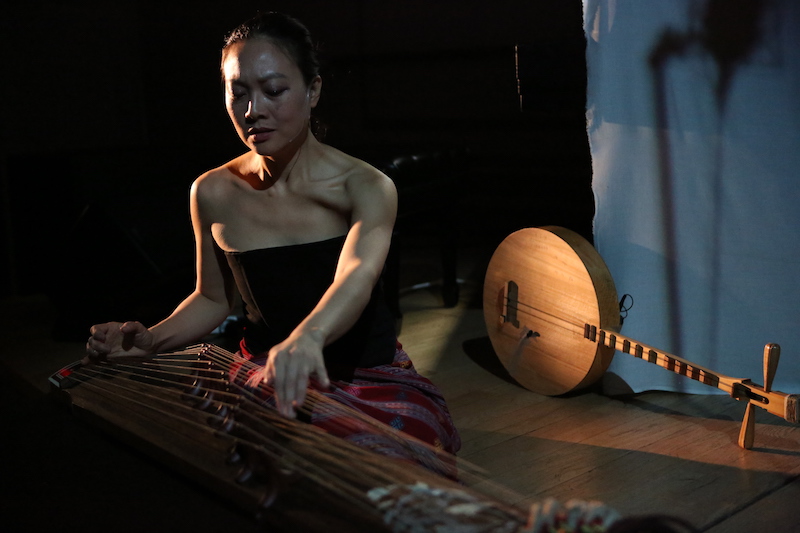 photo credit: Steven Schreiber
Tickets
Tickets are FREE for New College students, faculty, and staff—just bring your NCF ID to the concerts. For everyone else, single event tickets are $15, and season tickets to all five concerts are a bargain at $60. Click here to purchase tickets on line. Admission to all of our Artist Conversations is free for everyone. Concert admission is also free for students, faculty, and staff of SCF, USF Sarasota-Manatee, Ringling College of Art & Design, Eckerd College, FSU/Asolo Conservatory, and Booker High School—please bring your school ID. Visit our Reservations page for details.

All NMNC venues are ramp accessible.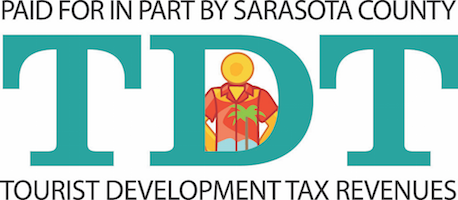 Paid for in part by Sarasota County Tourist Development Tax revenues.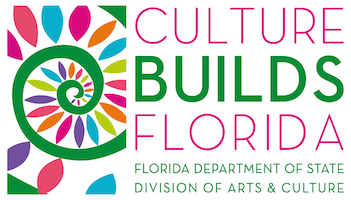 Sponsored in part by the State of Florida, Department of State, Division of Cultural Affairs and the Florida Council on Arts and Culture.
Support for this season was provided by a grant from the Andrew W. Mellon Foundation.