Kathleen Supové, Jennifer Choi, and James Moore:
New Music Cabaret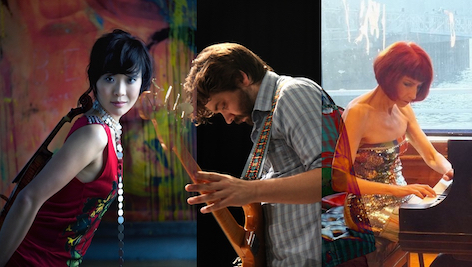 Jennifer Choi, James Moore, and Kathleen Supové
photo credits: Lisa-Marie Mazzucco, Isabelle Selby,
and Angellos Ioannis Malefakis
Concert: Saturday, October 1, 8:00 p.m., Club Sudakoff
($15, free with subscription)
Pre-concert talk: 7:30 p.m.
Artist Conversation: Thursday, September 29, 5:00 p.m.,
Club Sudakoff (free)

Electrifying pianist Kathleen Supové returns to NMNC, this time with violinist Jennifer Choi and guitarist James Moore, to present a cornucopia of works from John Zorn, Lainie Fefferman, Randall Woolf, Vijay Iyer, and others. There will be solos, duets, and trios throughout the Club Sudakoff space. Come to the cabaret!
Video of Kathleen Supové playing Annie Gosfield's Shattered Apparitions of the Western Wind
Kathleen Supové challenges and thrills NMNC audiences every time she performs here, whether it be with powerful, dark pieces like Lainie Fefferman's Barnacles, ethereal ones like Missy Mazzoli's Isabelle Eberhardt Dreams of Pianos, raucous ones like Frederic Rzewski's Winnsboro Cotton Mill Blues, electronically processed ones like Randall Woolf's Adrenaline Revival, or as part of a theatrical duo with singer Corey Dargel in his disturbing yet humorous Removable Parts. In 2012 she received ASCAP's John Cage award for "the artistry and passion with which she performs, commissions, records, and champions the music of our time."
Video of Jennifer Choi playing Helmut Lachenmann's Toccatina
Jennifer Choi has charted a career that breaks through the conventional boundaries of solo violin, chamber music, and the art of improvisation. A frequent collaborator with living composers, Jennifer has performed solo works written for her including Randall Woolf's Holding Fast for violin and video, Wadada Leo Smith's violin concerto Afrikana 2, Orlando Garcia's violin concerto Una Marea Cresciente, and Susie Ibarra's Black and White for violin and pre-recorded sounds. She has also given numerous world premieres of solo and chamber works by John Zorn, and U.S. premieres of pieces by Jacob TV and Helmut Lachenman.
Video of James Moore playing John Zorn's Book of Heads
James Moore is a versatile guitarist and multi-instrumentalist. Performing on a wide array of guitars, banjos, mandolins and home-made instruments, James incorporates his classical training and a healthy dose of improvisation, theatrics, and experimentation. James is a founding member and director of Dither, a an electric guitar quartet that has gained international recognition for precision playing and creative programming. Earlier this year he performed as part of the Los Angeles Philharmonic New Music Group at LA's Disney Hall in a program conducted by composer John Adams.
Tickets
Tickets are FREE for New College students, faculty, and staff—just bring your NCF ID to the concerts. For everyone else, single event tickets are $15, and season tickets to all five concerts are a bargain at $60. Click here to purchase tickets on line. Admission to all of our Artist Conversations, as well as the Student Composers Concert and the Electronic Music Concert, is free for everyone. Concert admission is also free for students, faculty, and staff of SCF, USF Sarasota-Manatee, Ringling College of Art & Design, Eckerd College, and Booker/VPA High School—please bring your school ID. Visit our Reservations page for details.

All NMNC venues are ramp accessible.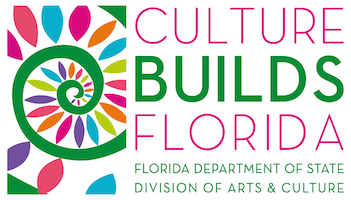 Sponsored in part by the State of Florida, Department of State, Division of Cultural Affairs and the Florida Council on Arts and Culture.