2009–2010 Season
NOW Ensemble
September
Mildred Sainer Pavilion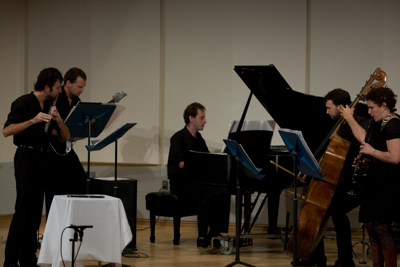 NOW Ensemble
The season began with the renowned NOW Ensemble—Andrew Rehrig (flute), Sara Budde (clarinet), Michael Mizrahi (piano), Logan Coale (bass), Mark Dancigers (guitar and composer), Patrick Burke (composer), and Judd Greenstein (composer). In addition to performing Folk Music by Greenstein, Burst by Dancigers, and Awake by Burke, they premiered two works: Electric Breakdown by Tony Suter and Signals by Stephen Gorbos.
The group also played Nico Muhly's How About Now, William Britelle's Michael Jackson, and Missy Mazzoli's Magic with Everyday objects.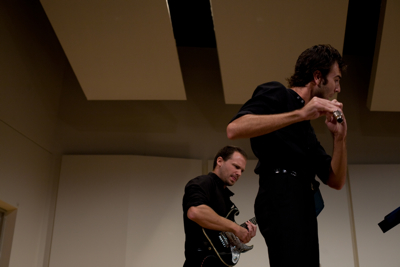 Mark Dancigers and Andrew Rehrig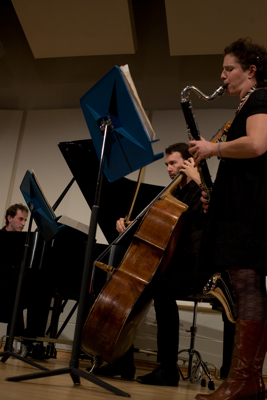 Michael Mizrahi, Logan Coale, and Sara Budde
Concert Sponsors: Shirley and Bernard Friedland
Living and Dead: The Gettysburg Project
November
College Hall Music Room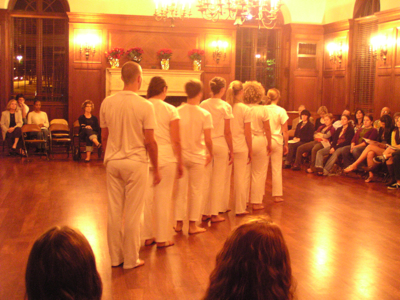 Living and Dead: The Gettysburg Project
NMNC Director Stephen Miles and Adjunct Professor of Theater Margaret Eginton collaborated with a group of New College students to devise Living and Dead: The Gettysburg Project, using socially constructed games and compositional elements drawn from traditional dance, theater, and music. Using the Gettysburg Address as source material for text, voice, and movement, the piece consists of six sections, which can be performed in any order. Only one section of the piece is "set" musically and choreographically; in the other sections the performers make choices in response to each other's activities, while following rules involving pitch, space, gesture, and volume.
The performers were Aaron Amram, D'ariel Bernard, Dylan Bobek, Christina Martin, Caitlin McMullen, Agne Milukaite, and Dustin Rohde.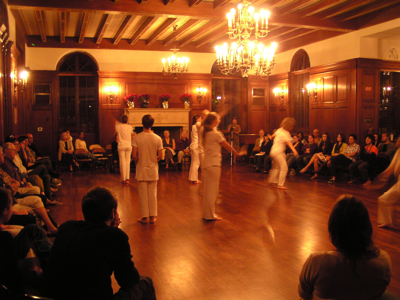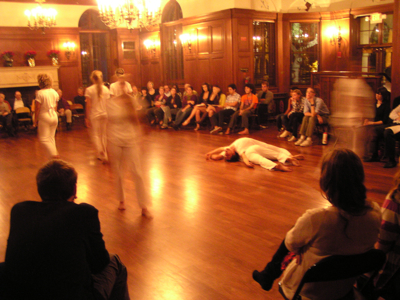 The JACK Quartet
January
Mildred Sainer Pavilion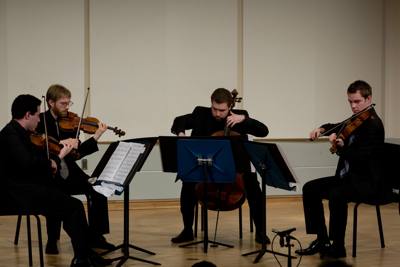 JACK Quartet
The JACK Quartet returned to NMNC to play music that ranged from medieval to modern, beginning with violinist Ari Streisfld's transcription and arrangement of works by Guillaume de Machaut, who died in 1377. These pieces were followed by Tetora by Iannis Xenakis, who died a mere 624 years after Machaut, in 2001.
Following a brief intermission JACK played two works by living composers: Elliott Sharp's The Boreal, which uses altenate bows made of ballchain and metal springs, and Zack Browning's String Quartet, which uses harmonic and melodic gestures of pop, rap, and jazz which are transformed according to procedures derived from the 3x3 Lo Shu Magic Square as it appears in the Flying Star System of Feng Shui. Browning himself was at the concert.
Concert Sponsor: Ina Schnell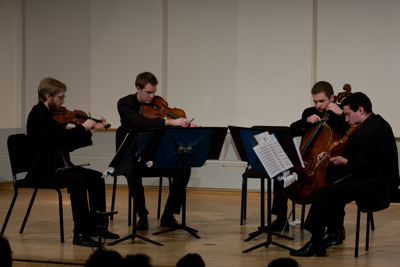 Using bows made of metal springs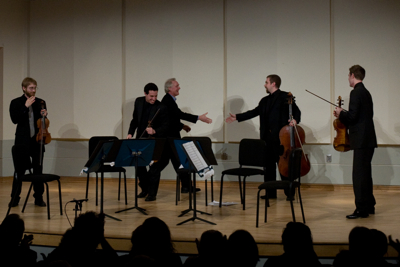 JACK with composer Zack Browning
Crossroads 2
February
PepsiCo Arcade, Caples Fine Arts Complex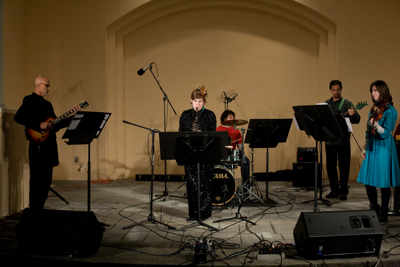 Stephen Miles, Dana Ziegler, Jeremy Spangler, John Miller, and Sara Stovall performing ...are you coming with me?
For the second year in a row NMNC surrounded its audience with sound from New College students and members of the Sarasota Orchestra, all under the stars in the PepsiCo Arcade behind the Sainer Auditorium. This year's concert began with NC Alum Taylor Briggs's ...are you coming with me? performed by Sara Stovall on violin, Dana Ziegler on alto sax, Jeremy Spangler on drums, NMNC Director Stephen Miles on electric guitar, and SO Principal Bassist John Miller on electric bass.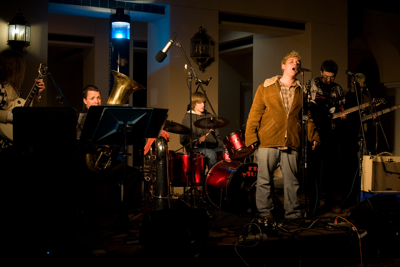 Physical Plant with Jay Hunsberger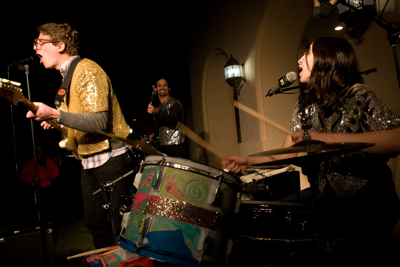 Tyger Beat with John Miller
Then the music jumped to the other end of the Arcade, where NC student band Physical Plant (Jake Elrod on vocals, Joshua Scheible on electric guitar and vocals, Caegan Quimby on electric guitar and vocals, Dave Baker on electric bass and vocals, and Jay Beard on drums) were joined by Jay Hunsberger, Principal Tubist of the Sarasota Orchestra for two of their three songs. Hunsberger remained on the stage after Physical Plant finished, and his tuba was processed electronically by Joohyun Kim and Alexander Salisbury in their Zone for Tuba and Electronics.
Student band Tyger Beat (Nick Lucas on electric guitar and vocals, Erica Gressman on drums and vocals) had John Miller sit in on electric bass for two of their four songs.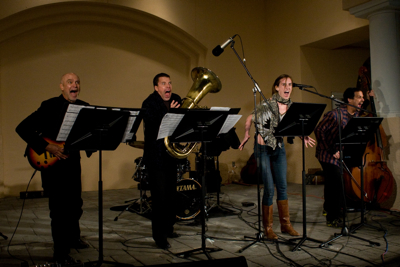 Stephen Miles, Rebecca Christoforo, Jay Hunsberger, and John Miller performing Cannibal-Caliban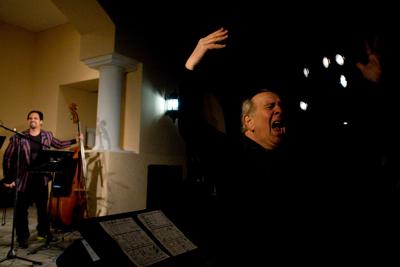 Composer Francis Schwartz conducting the audience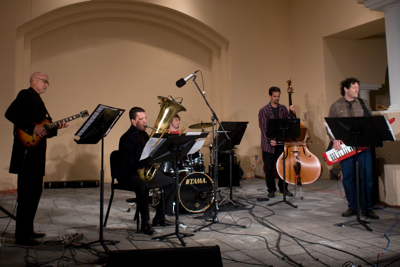 Stephen Miles, Jay Hunsberger, Jeremy Spangler, John Miller, and R. L. Silver performing Crosstalk
Composer Francis Schwartz then conducted his Cannibal-Caliban, with Rebecca Christoforo on vocals, Jay Hunsberger on tuba, John Miller on double bass, and Stephen Miles on guitar, and all of them on facial expressions—with the audience joining in. Following this, NMNC Technical Producer R. L. Silver played synthesizer with Miles, Hunsberger, Miller, and Spangler in Silver's Crosstalk, and finally the entire company on all stages played Frederic Rzewski's Les Moutons de Panurge, where a deceptively simple sequence of notes gets expanded and played faster and faster, with the direction to players, "if you get lost, stay lost." The piece provided a suitably raucous end to the evening's revels.
Darrett Adkins, cello: "Hypersuite"
April
Mildred Sainer Pavilion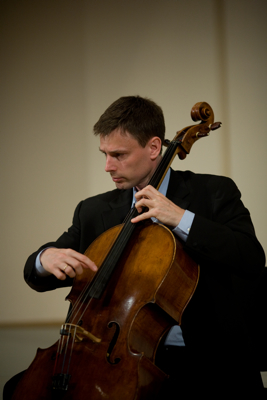 Darrett Adkins
Our season ended with cellist Darrett Adkins performing a Hypersuite—a recital of contemporary solo cello music narrated by Bach's Third Cello Suite in C Major. In between movements of the Bach, Adkins played Figment I by Elliott Carter, Drift by Philip Cashian, Projections I by Morton Feldman, Adkins's own Glass Castle (a world premiere), and finally Sequenza XIV by Luciano Berio.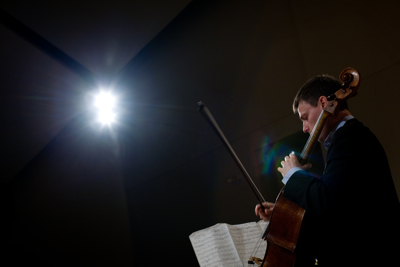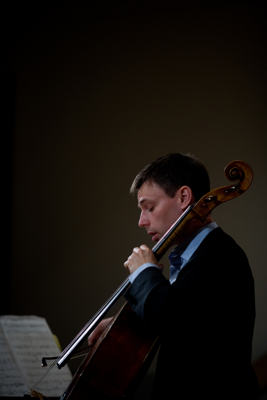 Adkins's masterful playing was complemented by his clear explanations of both the contemporary works and the Prelude movements, and he highlighted how the compositions spoke to each other across the span of centuries.
Concert Sponsors: Barbara Lupoff and Dorothy Waldron