2010–2011 Season
Andrew McKenna Lee & Michael McCurdy
September
Mildred Sainer Pavilion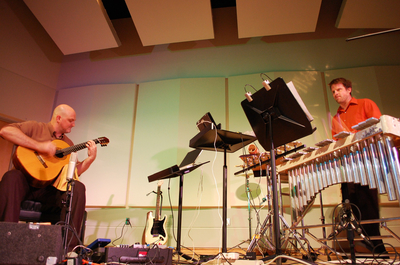 Andrew McKenna Lee & Michael McCurdy performing Prelude for Sarasota
The season opened with a world premiere as guitarist Andrew McKenna Lee and percussionist Michael McCurdy performed McKenna Lee's Prelude for Sarasota, "Vignette". Then McKenna Lee played Bach's Prelude in D Minor and followed that up with his own Suite from "Five Refractions of a Prelude by Bach".
He and McCurdy then played Unraveling, which he wrote for electric guitar, looping machines, and percussion. McCurdy performed Tristan Perich's Momentary Expanse for solo vibraphone and 2-channel 1-bit music, and McKenna Lee closed out the evening with an unforgettable rendition of Steve Reich's Electric Counterpoint.
Concert Sponsors: Renée Hamad and Nini Perlo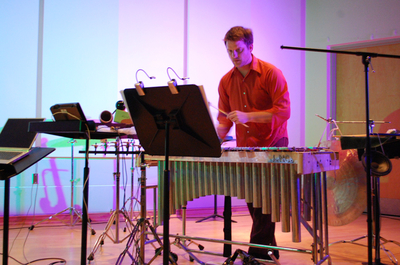 Michael McCurdy performing Momentary Expanse
Andrew McKenna Lee performing Electric Counterpoint
John Cage's Song Books
November
College Hall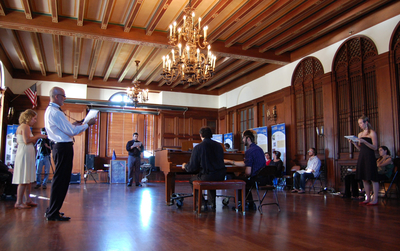 The company in the College Hall Music Room
NMNC offered a group performance of John Cage's Song Books, utilizing six performers (Bret Aarden, Christina Martin, Caitlin McMullen, Stephen Miles, R. L. Silver, and Sara Stovall), four technicians (Bryce Bresnan, Caegan Quimby, Brendan Rivers, and Tyler Whitson), and the entire ground floor of College Hall. Equipped with wireless headset mics and stopwatches, the performers moved independently throughout the rooms in a tightly choreographed dance, while each audience member was invited to move—or not—as he or she was inspired. The program lasted exactly one hour; and in addition to singing and theatrical gestures, the audience was treated to electronically processed voice, typewriter, playing cards, dominoes, blackboard, and scissors . . . among other things.
The week after two performances in College Hall, NMNC adapted the piece and presented it in the Searing Galleries of the John and Mable Ringling Museum of Art, as part of its "Art After Five" program.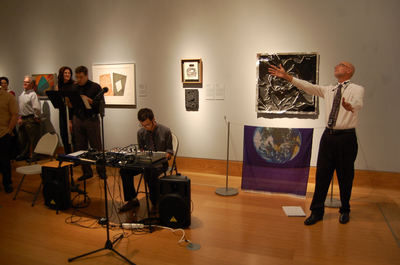 Bret Aarden and Stephen Miles with technician Caegan Quimby in the Searing Galleries
Caitlin McMullen in the Searing Galleries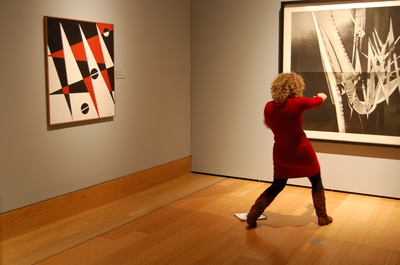 Christina Martin in the Searing Galleries
Concert Sponsors: Shirley and Bernard Friedland
In the Dark: the JACK Quartet performs Georg Friedrich Haas's In iij. Noct.

The JACK Quartet in the Black Box Theater
January
Black Box Theater
Not much of a photo, is it? That's because, as the renowned JACK Quartet came for their third NMNC program, they performed Georg Friedrich Haas's In iij. Noct. in total darkness. Not even an exit sign was visible in New College's new Black Box Theater for the three performances (precautions, including an usher equipped with night-vision goggles, were approved by the Fire Marshall).
The players—Christopher Otto and Ari Striesfeld on violin, John Pickford Richards on viola, and Kevin McFarland on cello—sat at the corners of the space, surrounding the audience, and sent out instrumental invitations to one another to begin a new section of the piece. Sometimes these invitations were accepted, and the new section begun; more often, the invitations were ignored. In this manner the piece progressed differently at every performance, and the sounds, which ranged from the lightest pizzicato to unearthly high notes to chords build upon overtones to a quote from the early seventeenth-century composer Gesualdo, seemed to swirl throughout the space. Audience members found the experience unsettling, meditative, beautiful, thought-provoking, too short, too long, ethereal, disturbing, moving . . . and memorable.
Concert Sponsor: Ina Schnell
Crossroads 3
March
PepsiCo Arcade, Caples Fine Arts Complex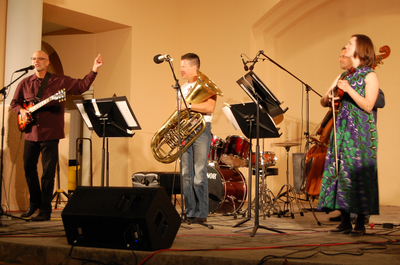 AS IS performers Stephen Miles, Jay Hunsberger, John Miller, and Sara Stovall
For the third year in a row New Music New College invited Sarasota Orchestra principals Jay Hunsberger (tuba) and John Miller (bass) to join NC students and alumni, NMNC Director Stephen Miles, and NMNC Technical Producer R. L. Silver in a genre-melding, outdoor extravaganza. Three stages surrounded the audience as the performers, sometimes on one stage, sometimes on all three, explored combinations of types of music that are typically strangers to each other.
Stephen Miles composed and played guitar in AS IS, the first piece, which examined compositional techniques used by Arnold Schoenberg and Igor Stravinsky; Miles was joined by Sara Stovall on violin, Jay Hunsberger on tuba, and John Miller on double bass.
Miles and Stovall remained on stage while acoustic guitarist Nat Langston began Nat's Blues. John Ewing on electric bass and Zach Eidelman on drums added to the party.
Then all three stages were used for Sara Stovall's experimental piece Mandala Music, with Stovall, John Miller, and Jay Hunsberger each interpreting a graphic score in conversation with one another.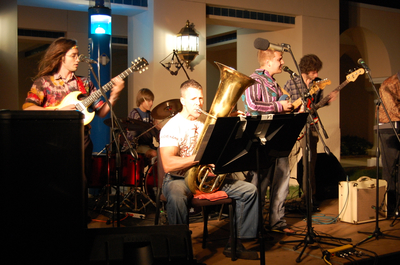 Jay Hunsberger with Physical Plant
NC student rock band Physical Plant added tubist Hunsberger to their roster, and then computer musician and NC student Bryce Bresnan (aka "Rive") had John Miller join him on electric bass.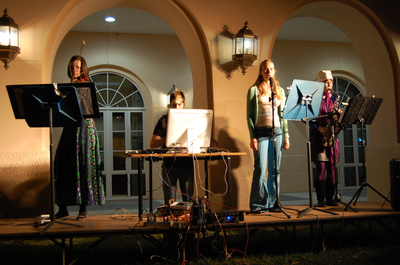 Spin Cycle performers Sara Stovall, Bryce Bresnan, Caitlin McMullen, and Dana Ziegler at Stage 2
The evening concluded with R. L. Silver's Spin Cycle, involving thirteen performers at all three stages. Sections of the piece passed from stage to stage, so the music revolved around the audience before ending in an explosion of percussive chords.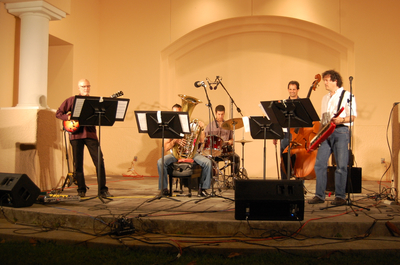 Spin Cycle performers Stephen Miles, Jay Hunsberger, Zach Eidelman, John Miller, and R. L. Silver at Stage 1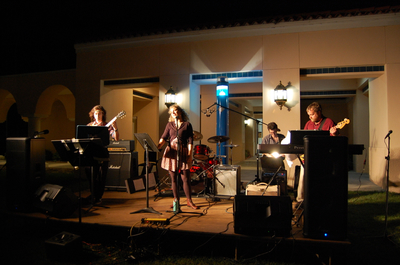 Spin Cycle performers Josh Scheible, Chrissy Martin, Caegan Quimby, and John Ewing at Stage 3
Concert Sponsors: Barbara Lupoff and Dorothy Waldron
The Borup-Ernst Duo
April
Mildred Sainer Pavilion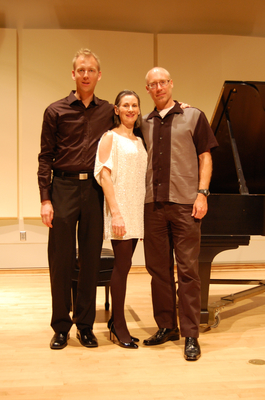 Hasse Borup and Mary Kathleen Ernst with composer Lansing McLoskey
To close out the season, violinist Hasse Borup and pianist Mary Kathleen Ernst presented a program that spanned two centuries and included works by two living composers, one of whom was present at the concert.
Beginning with two pieces from the mid-twentieth century, Schoenberg's Phantasy for Violin with Piano Accompaniment and Cage's Six Melodies for Violin and Keyboard, the Borup-Ernst Duo then played Judith Shatin's evocative Tower of Eighth Winds. Following intermission, composer Lansing McLoskey introduced his piece Gleam (Aria) for Violin and Piano, which was chromatic in more than one sense: it was envisioned to be performed while an artist on stage painted in response to the playing. And earlier in the day three New College student artists did indeed paint and draw as Borup and Ernst played the piece; the canvasses were on display in the Sainer lobby.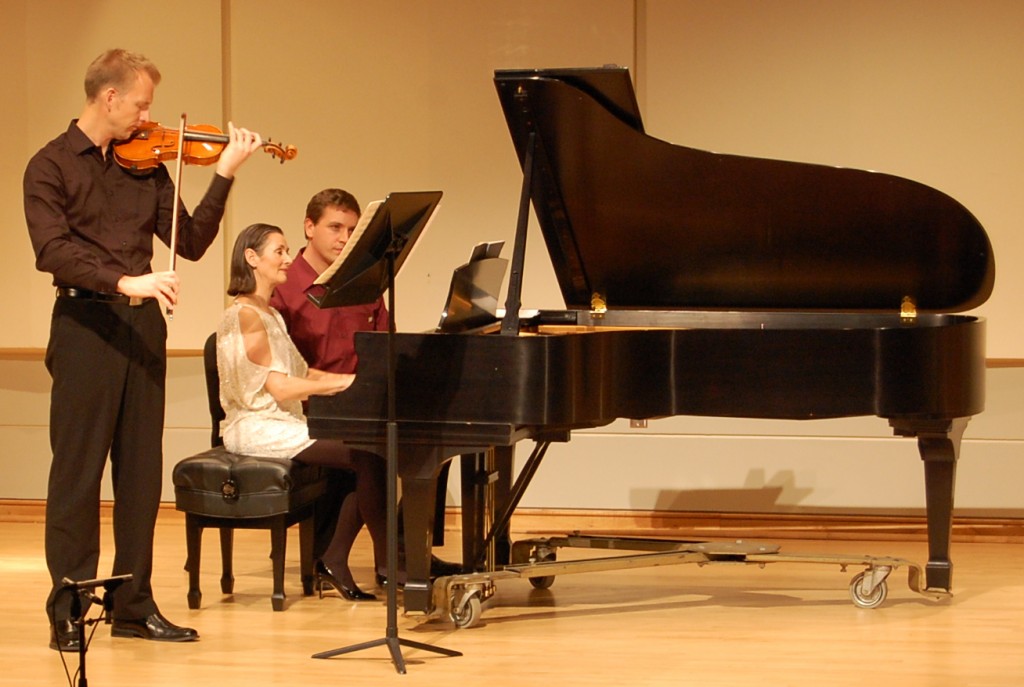 The Borup-Ernst Duo
These pieces all provided a fresh perspective for the final piece of the evening, Beethoven's Sonata for Piano and Violin Op. 96 in G Major.
Concert Sponsor: Renée Hamad
Concert dedicated to the memory of Nini Perlo