2011–2012 Season
Miranda Cuckson, violin: Past, Present, Future
September
Mildred Sainer Pavilion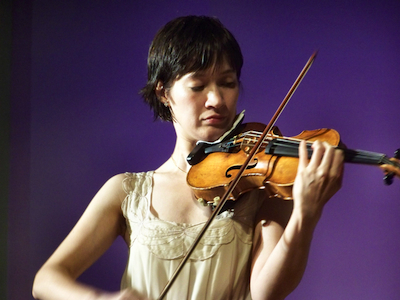 Miranda Cuckson
Violinist Miranda Cuckson offered a stunning performance to open our season, beginning with the thrilling microtones of Mikka S by Iannis Xenakis. Cuckson then took us into the past with the Chaconne from J. S. Back's Partita in D Minor and used that as a bridge to Reiko Füting's tanz.tanz.
The drama and power of de terrae fine by Georg Friedrich Haas was enthralling, with Cuckson evoking despair and eventually violence as the piece progressed. And finally, Eugene Ysaÿe's L'Aurore from Sonata No. 5 was a welcome coda to the evening.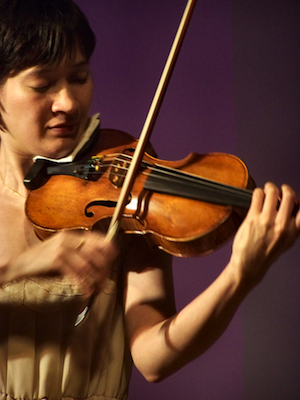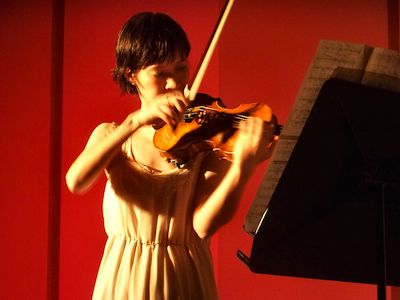 Concert Sponsors: Shirley and Bernard Friedland,
Robert and Deborah Hendel, and Lynne and John Buchanan
Miles & Eginton: New Experimental Works
November
College Hall
Contemplations in the Great Room
Professors Stephen Miles and Margaret Eginton, working with New College students Dylan Bobek, Andrea Body-Barre, Caegan Quimby, and Dana Ziegler, created four experimental pieces of music, movement, and light that flowed throughout the ground floor of College Hall.
Contemplations involved individual movements which arose from meditations; members of the audience lit the performers with flashlights as they traveled through the Great Room and the Sun Room. Then everyone shifted to the Music Room for Elements (Tangle), which involved tasks that specific performers could begin or end and contrasted individuality with social interaction. Humming explored the normally private act of humming when it becomes public; in a second iteration, members of the audience were encouraged to participate. And finally RSVP involved the performers sending vocal invitations to others, asking them to join a virtual party.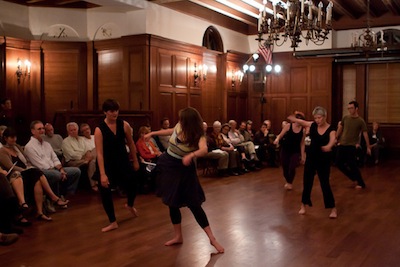 Elements (Tangle) in the Music Room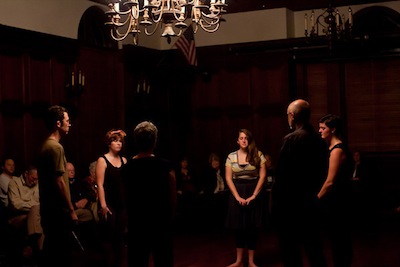 Humming in the Music Room
Concert Sponsors: Barbara Lupoff and Dorothy Waldron
Kathleen Supové, piano: Digital Diva
January
Mildred Sainer Pavilion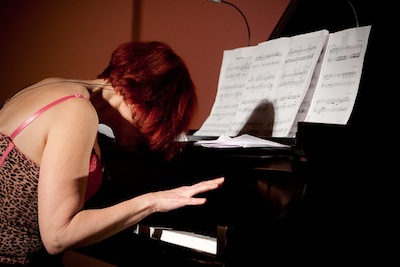 Kathleen Supové
The amazing pianist Kathleen Supové returned to NMNC for the fourth time for a concert featuring some very new works. Let's just say that the oldest piece on the program was composed way back in 2007: the opening, On Track by Anna Clyne, with accompanying video by Joshue Ott.
Then the program turned to pieces written for Supové and her "Digital Debussy" project. Composer Matt Marks wrote Dr. Gradus vs. Rev. Powell as a mashup of Debussy's Dr. Gradus ad Parnassum and audio from the movie Night of the Hunter. Randall Woolf, who along with Supové was in residence at New College for almost a week, offered a world premiere of his What Remains of a Rembrandt (commissioned by NMNC), which managed to be both lyrical and playful.
Barnacles from Lainie Fefferman followed, a dark and powerful piece featuring recordings of Supové talking about Debussy. Gene Pritsker's Digital Debussy: La Mer, for piano and Samplestra (beats and samples provided by the composer), was next, and Supové finished up the evening by offering some Debussy straight up, the prelude Feux d'artifice.
While Supové and Woolf were in residence at New College, they worked with NCF students and also presented a demonstration/discussion at Booker/VPA High School for local public school students.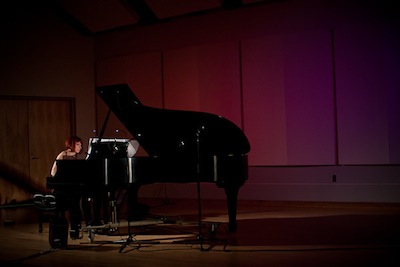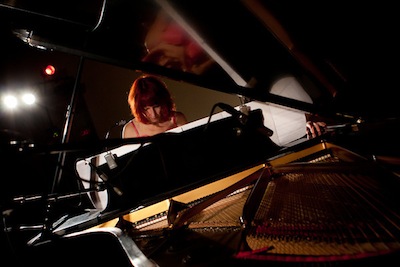 Concert Sponsor: Renée Hamad
Crossroads 4: The Meeting of the Minds Festival
March
PepsiCo Arcade, Caples Fine Arts Complex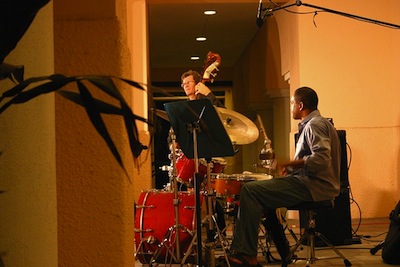 Doug Mathews and Ronnie Burrage of Fluid Motion
NMNC expanded our annual Crossroads outdoor surround-the-audience-with-three-stages bash into a two-day event, the Meeting of the Minds Festival, beginning with a concert Friday evening by Fluid Motion (David Manson, trombone; Jonothan Powell, trumpet; Jeremy Powell, saxophones; Ronnie Burrage, drums; and Doug Mathews, bass) paying homage to the late Sam Rivers. On Saturday afternoon NMNC Director Stephen Miles moderated a panel discussion, "The Politics of Race and American Experimental Music," with Ronnie Burrage, George E. Lewis, and bell hooks.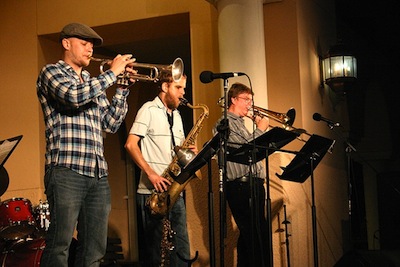 Jonathan Powell, Jeremy Powell, and David Manson of Fluid Motion
On Saturday evening, Fluid Motion opened our second concert, and then NCF student musicians Physical Plant took the reins, with Sarasota Orchestra's principal tubist Jay Hunsberger joining them for two of their three songs. Another New College band, the NEW Ensemble, followed, and Hunsberger and SO principal bassist John Miller each joined in on one piece.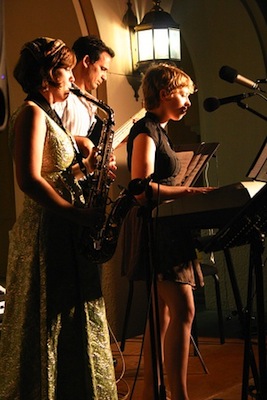 John Miller with Dana Ziegler and Susanna Payne-Passmore of NEW Ensemble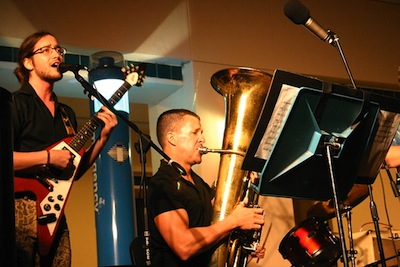 Jay Hunsberger with Josh Scheible of Physical Plant
Hunsberger, Miller, NMNC Director Stephen Miles (electric guitar) and Technical Producer R. L. Silver (synthesizer) then played Silver's piece Out Of Time, and finally composer Francis Schwartz led the entire company, on all three stages, in his Cooking at the Crossroads with Pauline & John, dedicated to Pauline Oliveros and the memory of John Cage. Just to make the finale even more memorable, choruses of New College students were at each stage, Marta Moreno played percussion using kitchen implements, and the entire audience was encouraged to participate at the ending.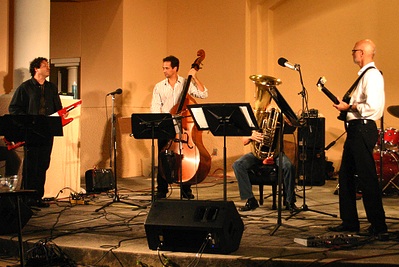 R. L. Silver, John Miller, Jay Hunsberger, and Stephen Miles performing Out Of Time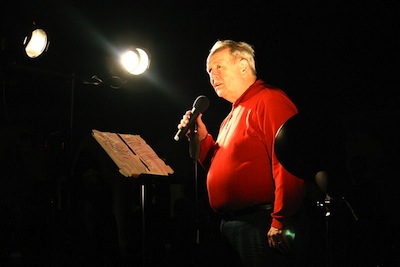 Francis Schwartz
Event Sponsor: Gerri Aaron
Michael Gordon's Timber performed by Mantra Percussion
April
Club Sudakoff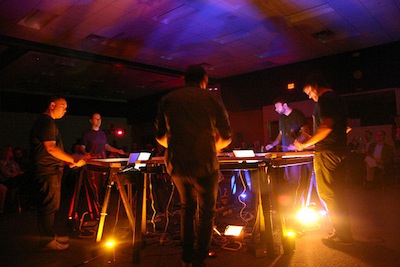 Mantra Percussion performing Timber
What a way to end our season—with the Florida premiere of Michael Gordon's Timber, performed on electrified two-by-fours by Mantra Percussion.
The six members of Mantra Percussion (Michael McCurdy, Joe Bergen, Al Cerulo, Chris Graham, Jude Traxler, and Nick Woodbury) stood in a circle at the center of our transformed Club Sudakoff, and the intense, hypnotic music circled around the audience from speakers in the four corners of the room as lights triggered by the performers' mallet strikes flashed up at the ceiling. The composer himself was present for both the concert and our Artist Conversation, and spoke about the genesis and evolution of this concert-length work.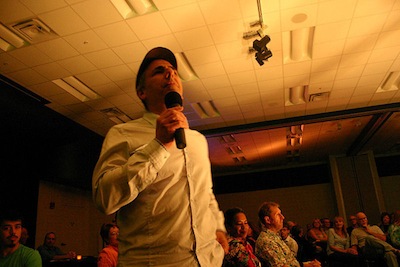 Composer Michael Gordon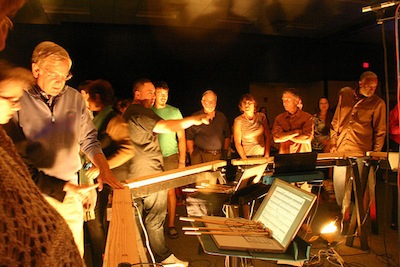 Mantra Percussion showing the instruments to audience members
Event Sponsor: Ina Schnell