2017–2018 Season
all still photo credits: Nancy Nassiff of Elan Photography
Special Event: Duo Cortona
October
College Hall Music Room
Video of Duo Cortona performing Machaut's Riches d'amour in the College Hall Music Room
As a prelude to our first major concert of the season we offered a free performance by Duo Cortona: violinist Ari Streisfeld (a longtime friend of NMNC as a founder of the JACK Quartet) and mezzo-soprano Rachel Calloway, who also performed the following Saturday with Amernet Quartet.
Duo Cortona performed five works, beginning with Streisfeld's arrangement of Guilloume de Mauchaut's Riches d'amour and then three of Laura Schwendinger's Love Sonnets. Then they battled in Amadeus Regucera's If only after you then me, each facing the other in a dramatic confrontation.
Video of Duo Cortona performing Laura Schwendinger's Love Sonnets
After a brief pause they performed four of Jeff Myers's evocative Islands of Death and ended the concert with Kamala Sankaram's haunting Kivalina.
Besides the concert Duo Cortona met with New College composition students and performed for and spoke with music students at State College of Florida (SCF).
Event Sponsor: Ina Schnell
Amernet String Quartet with Rachel Calloway:
Schoenberg's String Quartet No. 2
October
Mildred Sainer Pavilion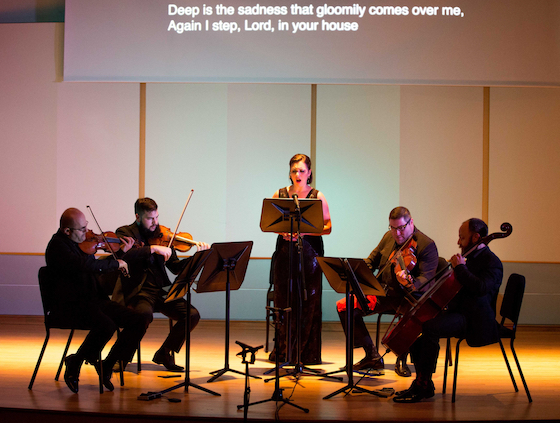 Amernet with Rachel Calloway performing the Schoenberg with English supertitles
The Miami-based Amernet String Quartet were joined by mezzo-soprano Rachel Calloway for our first major concert of the season.
Amernet (Misha Vitenson, violin; Franz Felkl, violin, Michael Klotz, viola; and Jason Calloway, cello) began the concert with Arnold Schoenberg's masterful and moving String Quartet No. 2 in F-sharp minor. The final two movements of this piece include vocals, and Calloway demonstrated a thorough command of this demanding work. We provided supertitles in English of the poetry used for the text.
To end the concert Amernet performed Toshio Hosokawa's pointillist Kalligraphie: 6 Pieces for Quartet, a wonderful contrast to the emotional richness of the Schoenberg.
Video of both pieces from the concert is below.
Video of Amernet and Rachel Calloway performing the Schoenberg in Sainer
Event Sponsor: Ina Schnell
Video of Amernet performing Toshio Hosokawa's Kalligraphie in Sainer
Dis/Embodied
November
Black Box Theater
We explored making music with the body—and without the body—in this concert, performed three times in New College's intimate Black Box Theater. Vinko Globokar's unsettling ?Corporel (performed by NMNC Director Stephen Miles) was played by the performer on his own body. Luciano Berio's Thema (Omaggio a Joyce) is a recorded piece based on the Sirens episode of Ulysses, and dancer Xiao-Xuan Yang Dancigers created Signal, a physical interpretation. NMNC Producer R. L. Silver closed the concert by performing Roger Marsh's Dum, which fragments and reconfigures texts and also involves hurling pieces of metal into a bucket. In between these solo works, New College students Jim DePriest, Laila Kalantari, Allie Stachura, Lily Tanner, and Euginia Titterington danced to electronic music composed by NCF students Jacob Wentz, Zachary Cole, Zach Schoenblatt, and Kalantari.
Choreography for the student dances was done by Leymis Bolaños Wilmott with rehearsal assistance from Eugenia Titterington.
Video of all the pieces of the concert are to the left.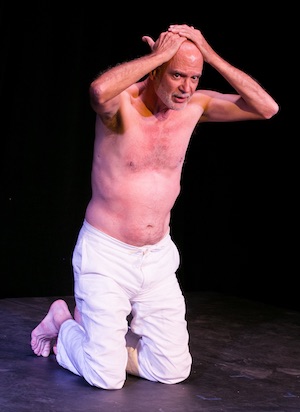 Stephen Miles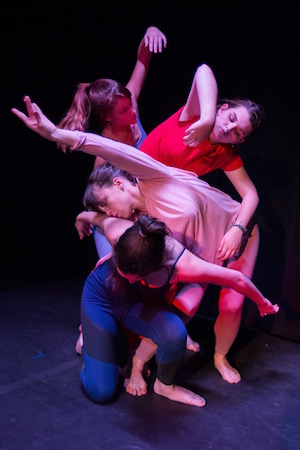 Student dancers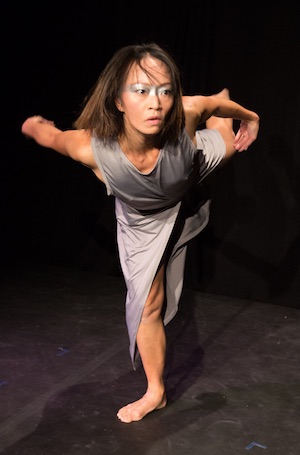 Xiao-Xuan Yang Dancigers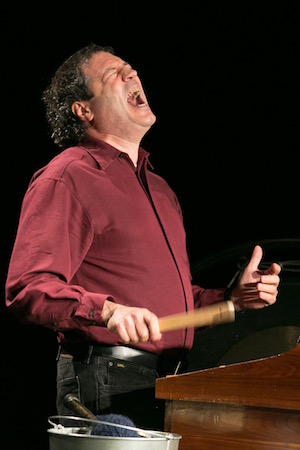 R. L. Silver
Video of Stephen Miles performing ?Corporel at the concert
Video of students Jim DePriest, Laila Kalantari, Allie Stachura, Lily Tanner, and Eugenia Titterington in their first set of dances
Video of Xiao-Xuan Yang Dancigers performing Signal to Berio's Thema
Video of the students dancing to Flower Pill Kisses
Video of R. L. Silver performing Dum
Miles and Silver also performed their pieces for students at Booker/VPA High School and then discussed the students' responses to these unusual works.
Event Sponsor: Bernard Friedland
Lerner/Filiano/Grassi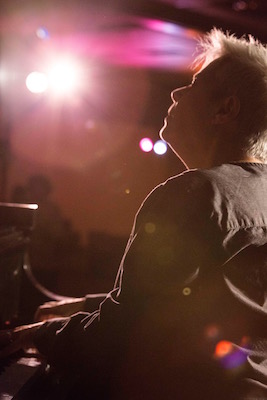 Marilyn Lerner
January
Club Sudakoff
Pianist Marilyn Lerner has been to NMNC twice before, and she returns to thrill us with her mastery of extended techniques and her gift for improvisation, this time with bassist Ken Filiano and drummer Lou Grassi. They thrilled the audience at Club Sudakoff with an hour of completely improvised music, which you can witness on the video below.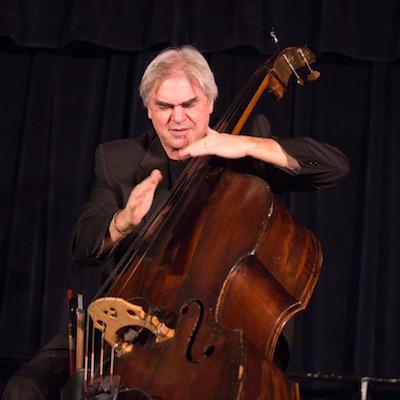 Ken Filiano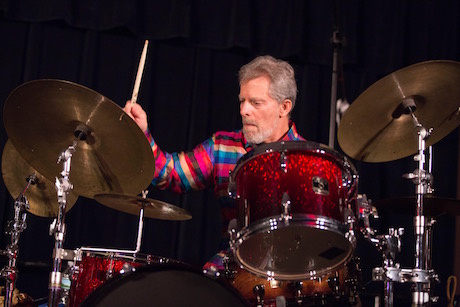 Lou Grassi
Lerner made two outreach visits, one to Booker/VPA High School and the other to SCF. At each one she discussed strategies for improvisation and demonstrated techniques, as well as giving impromptu performances.
Video of the entire concert
The trio also met with and performed for a group of local therapists and New College students studying with them, exploring the connections between musical improvisation and human interaction.
Event Sponsors: Renée Hamad,
Linda Buxbaum, and
John and Lynne Buchanan
It's Alive!
A Monstrous Circus On Frankenstein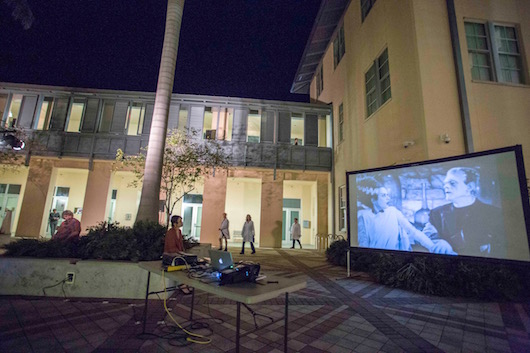 It's Alive! A Monstrous Circus On Frankenstein
March
ACE Building and Koski Plaza
2018 is the 200th anniversary of the publication of Frankenstein, and we celebrated by using Mary Shelley's enormously influential work as the basis of John Cage's Circus On, a template for turning any text into a performance. "It's Alive! a Monstrous Circus On Frankenstein" was our live, multimedia presentation, sprawling over the outdoor Koski Plaza and all levels of New College's ACE building. Twenty-seven live performers (and one disembodied voice): New College students, faculty, and staff, instrumentalists from ensemblenewSRQ and State College of Florida, and members of the community sang, played, declaimed, emoted, performed, made noise, and wreaked general havoc. You can see video of the entire performance below.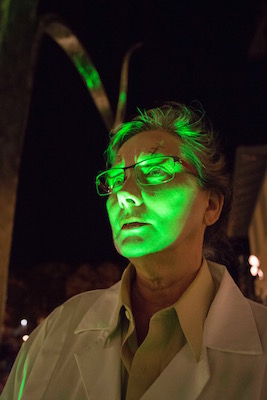 New College students Cole Brown, Claire Craven, Emma Kervel, Emily Mulholland, Sarah Olsen, and Elizabeth Perez Ruiz working with Professor of English Miriam Wallace used Cage's process of transforming the text of the 1818 version of Frankenstein into "mesostics," a type of poem created using words from the base text that contain the letters of the text's title, following certain rules. These mesostics formed the new text of our performance, which also incorporated sounds, music, and references to places found in Frankenstein. Performers were on all levels of the ACE (Academic Center) Building and the adjacent Koski Plaza, so the audience chose their own receptive experience as they moved around the Plaza.
Video of the entire concert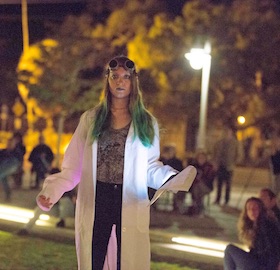 Instrumentalists were Samantha Bennett on violin, John Miller on bass, George Nickson on percussion, and Rex Willis on guitar. Vocal performers were Araya Hope Barnes, Erika Calle, Tiffany Doan, Sofia Eury, Jack Fahey, Sheila Foley, Mary K. Herman, Emma Kervel, Brian Landes, Kit Liset, Eryn McIntyre, Steve Miles, Sarah Olsen, Stephen Pinna, Tammera Race, Dianne Saunders, Emily Schenck, R. L. Silver, Allie Stachura, Leslie Townsend, Miriam Wallace, Katherine Walstrom, and Kiera Wolkins, with Francis Schwartz providing a disembodied voice.
You can read even more about the performance here!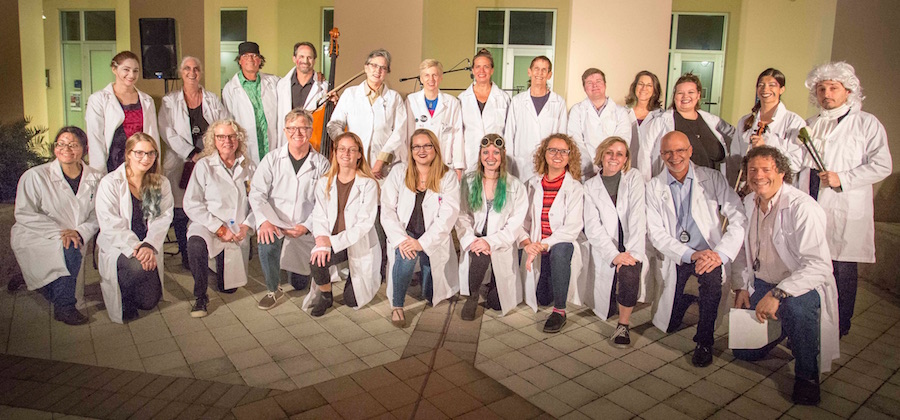 (Almost) the entire cast of performers
Event Sponsor: Barbara Lupoff
Dither
New York-based guitar quartet Dither closed our season in spectacular fashion. Taylor Levine, James Moore, Gyan Riley, and special guest Brendon Randall-Myers performed works by Lisa Renée Coons, and Paula Matthusen as well as pieces by each of the four players (and to the left you can watch video of every piece from the concert).
The works ranged from meditative, with sustained tones not expected from electric guitars, to rhythmic and driving. The final piece, Dynamics of Vanishing Bodies by Brendon Randall-Myers, was a two-movement exploration of how the sounds of the four amplified guitars interact with each other. In the first movement low tones ("subharmonics") are heard that no one actually "plays," but are created by these sonic interactions. The second movement uses upper harmonics to create melodic material as the players navigate a pulsing, rhythmic maze. At the end our audience leapt to its feet, jolted by the electric intensity of the playing.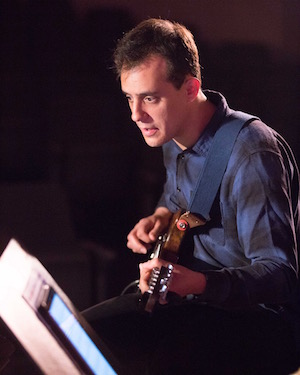 Taylor Levine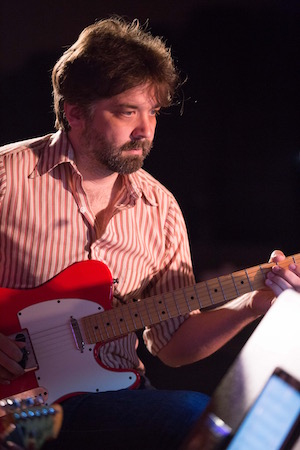 James Moore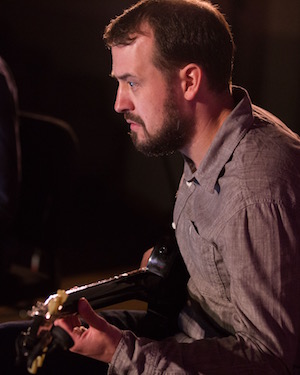 Gyan Riley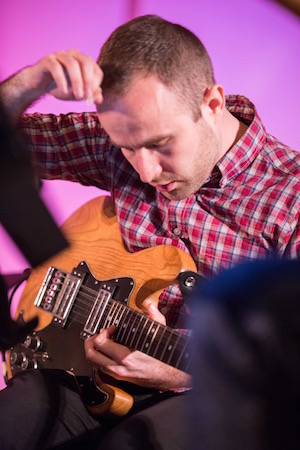 Brendon Randall-Myers
Event Sponsors: Robert and Deborah Hendel
April
Mildred Sainer Pavilion
Video of Dither playing Lisa Renée Coons's Cross-sections: Entropion at our concert
Video of Dither playing James Moore's Mannequin
Video of Dither playing Gyan Riley's SuperPumperSuperTender
Video of Dither playing Paula Matthusen's but because without this
Video of Dither playing Taylor Levine's Renegade
Video of Dither playing Brendon Randall-Myers's Dynamics of Vanishing Bodies
Percussion instruments for our November, January, and March concerts were kindly supplied by Florida Percussion Service.
Guitar amplifiers kindly supplied by Guitar Center Sarasota. We thank Mack James for arranging the rental.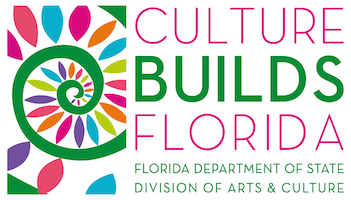 This season was sponsored in part by the State of Florida, Department of State, Division of Cultural Affairs and the Florida Council on Arts and Culture.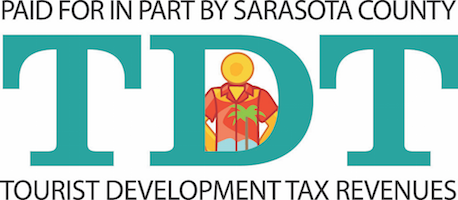 Paid for in part by Sarasota County Tourist Development Tax revenues.
This season was sponsored in part by a grant from the Andrew W. Mellon Foundation.