2018–2019 Season
still photos by Nancy Nassiff of Elan Photography unless otherwise indicated
Sō Percussion
October
Club Sudakoff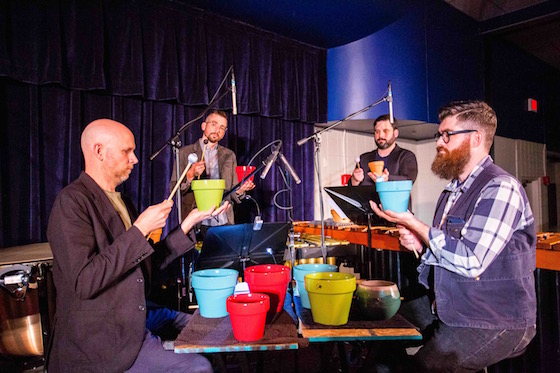 Sō Percussion performing Caroline Shaw's Taxidermy
The amazing Sō Percussion opened NMNC's Twentieth Anniversary season by rocking Club Sudakoff. They began with Paul Lansky's Springs, which began by quietly drawing one in, but ended with a rousing finish.
The more contemplative Taxidermy by Caroline Shaw came next, played on tuned flower pots as well as vibraphone and marimba. Speech was also a part of this moving piece.
The members of Sō Percussion—Eric Cha-Beach, Josh Quillen, Adam Sliwinski, and founding member Jason Treuting—went on to perform John Cage's tour de force Third Construction, which ends with raucous blowing on a conch shell.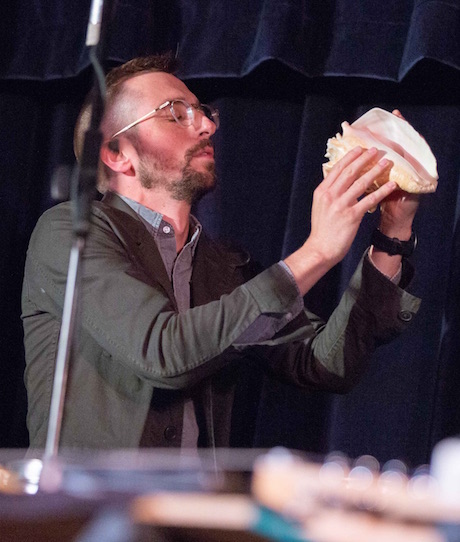 Eric Cha-Beach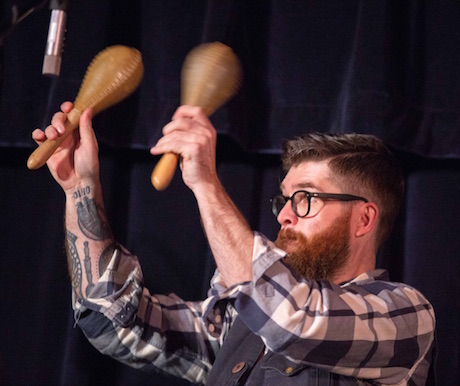 Josh Quillen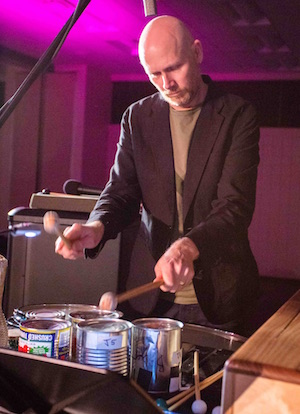 Jason Treuting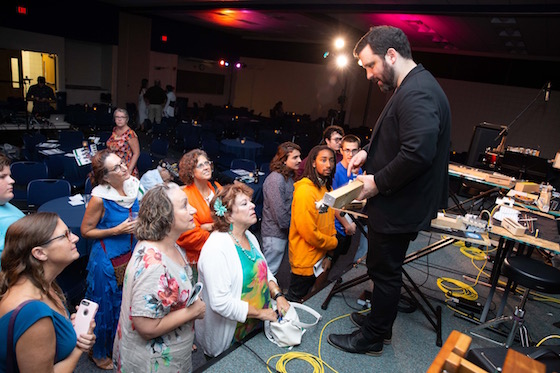 Adam Sliwinski showing the unusual instruments used in the Dessner piece
They finished the concert with an excerpt from Bryce Dessner's Music for Wood and Strings, played using bows and sticks to make sounds on unique instruments that are somewhat like amplified dulcimers.
Event Sponsor: Ina Schnell
Inter/Action:
New works featuring Mark Dancigers,
New College students, and Special Guests
November
Mildred Sainer Pavilion
Composer, electric guitarist, and New College's first Professor of Digital Media and Music Mark Dancigers led our November concert, in the Mildred Sainer Pavilion. The concert opened with two new works by Dancigers for electronics and acoustic instruments, Skyline featuring Principal Second Violin of the Sarasota Orchestra and Co-Artistic Director of ensemblenewSRQ Samantha Bennett and Everything Happens for the First Time with Brad Williams, Principal Trombone for the Sarasota Orchestra.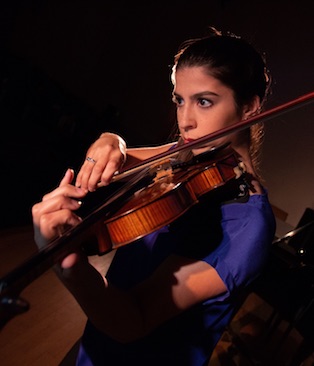 Samantha Bennett playing Skyline
Inter/Action engaged the possibilities of digital media through works that explore sound, music, movement, and images. The center of the concert featured When It Rains, It Rains, a world premiere work with sound derived from rainfall data from eight locations around Sarasota (played back through eight speakers around the auditorium). Projected video and dancer/choreographer Xiao-Xuan Yang Dancigers added visual and kinetic interest, and New College students Timothy Abramov (synth), Sullivan Boyd (violin), Laila Kalantari (synth), Max Kucera (guitar), Akiva Packouz (guitar), Rose Schimmel (clarinet), Rolando Tate (voice), and Zulfiia Tursunova (piano) improvised to the playback.
Dancigers ended the concert playing two movements of his work Jehanne, which he realized using solo guitar and looping pedals.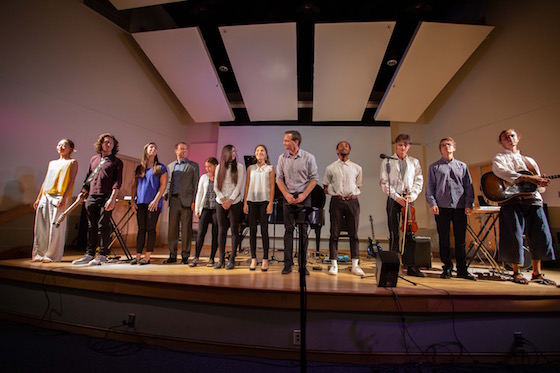 All the performers at the end of the concert
Video of Brad Williams playing Everything Happens for the First Time at our concert
Video of When It Rains, It Rains
Video of Mark Dancigers playing his Jehanne, Mvt. 1
Event Sponsor: Bernard Friedland
Special Event:
ensembleNEWSRQ—Holographic
January
Mildred Sainer Pavilion
NMNC hosted our friends ensembleNEWSRQ as they presented Daniel Wohl's Holographic, a piece for live ensemble, live electronic and video processing, and video projection.
Ensemble Dal Niente
with George Lewis
January
Mildred Sainer Pavilion
Chicago-based Ensemble Dal Niente came in January, along with composer and MacArthur ("Genius Grant") Fellow George Lewis, who holds a PhD in Humane Letters (honoris causa) from New College. Dal Niente began their program with the Lewis duo for violin and piano, The Mangle of Practice.
The second piece was the haunting Like a Halo by Katherine Young (for six performers), followed by another duet, Anthony Cheung's Refrain from Riffing for harp and saxophone.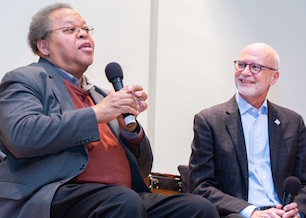 Composer George Lewis with NMNC Director Stephen Miles at the pre-concert talk
Then the stage got crowded as ten people performed Anthony Braxton's Composition Nos. 193 and 228, and (with a few changes) ten finished the concert with Lewis's amazing work Assemblage.
As a Special Event, NMNC in collaboration with the Ringling Museum's Art After 5 program presented a series of improvisations in the Ringling's galleries the Thursday before our concert. Starting at 5, there was one solo (soprano) near the Visitor's Pavilion, then two more solos (flute and bass clarinet ) at 5:30 and 6 in the main Museum galleries (rooms 19 and 20). At 6:30 in Gallery 21 the ensemble performed George Lewis's Artificial Life 2007, followed by a talk/discussion with Lewis.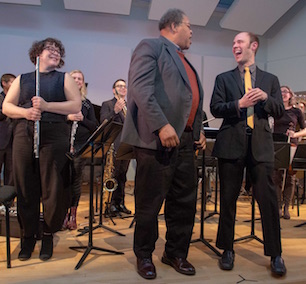 George Lewis with Ensemble Dal Niente at the end of our concert
The performers were Amanda DeBoer Bartlett, soprano; Emma Hospelhorn, flute; Alejandro Acierto, clarinet; Katie Schoepflin, clarinet; Taimur Sullivan, saxophone; Winston Choi, piano; Kyle Flens, percussion; Ben Melsky, harp; Minghuan Xu Choi, violin; Ammie Brod, viola; Seth Parker Woods, cello; and Michael Lewanski, conductor.
Event Sponsors: Robert and Deborah Hendel
and Lynne and John Buchanan
Video of George Lewis's The Mangle of Practice which opened our concert
Video of Katherine Young's Like a Halo
Video of Anthony Cheung's Refrain from Riffing
Video of Anthony Braxton's Composition Nos. 193 & 228
Video of the concert's finale, George Lewis's Assemblage
Special Event:
The Hermitage Artist Retreat—International Contemporary Ensemble
February
Mildred Sainer Pavilion
NMNC hosted our friends The Hermitage Artist retreat as they presented International Contemporary Ensemble: Words and Music, with ICE founder Clare Chase, ICE Director Rebecca Sigel, composer/instrumentalist Suzanne Farrin, and poet Laura Mullen in a performance and discussion.
Tigers Above and Tigers Below
February
Black Box Theater
In this new commission Eliza Ladd (Associate Professor of Movement at the FSU/Asolo Conservatory) in collaboration with New College students Kyla Hunter, Michelle Lee, Zulfiia Tursunova, and Niko Zamora, created a score of "Live Sound Action" (her theatrical approach to composition and performance) to be performed three times in New College's Black Box Theater. Ladd's approach, at once visual, aural, and physical, combines the sounds of objects and human movement with layers of primitive voice and song—reflecting our primordial musicality and reviving the original function of performance as a way to know ourselves, and to experience our birthright as creators.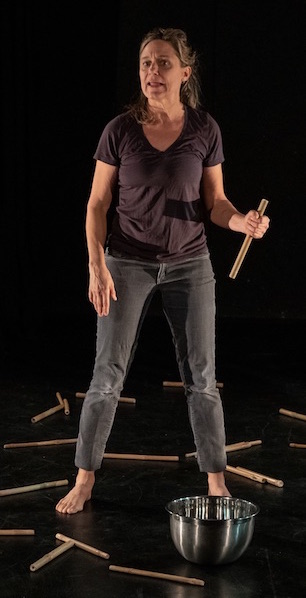 Eliza Ladd
Video of Saturday evening's performance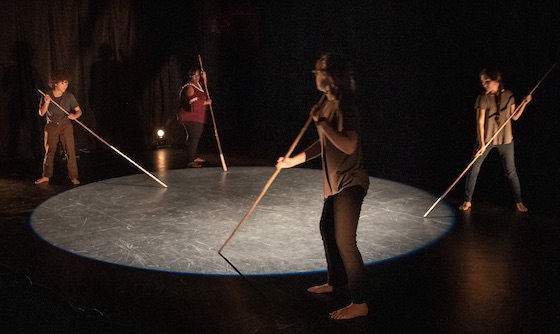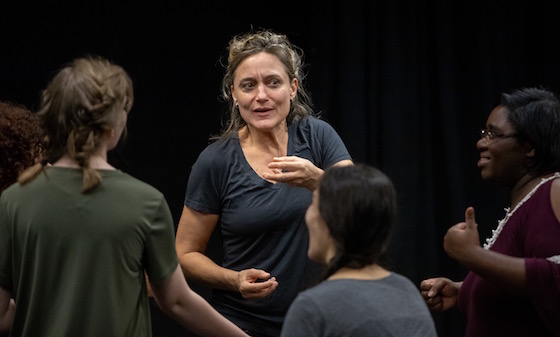 Ladd working with the students
This original composition was influenced by a theme of migration, what gets carried over time across place, and the act of searching, listening and thriving as it manifests in the flight of birds, the walking of humans, and on an elemental scale of geology.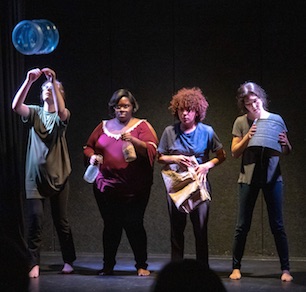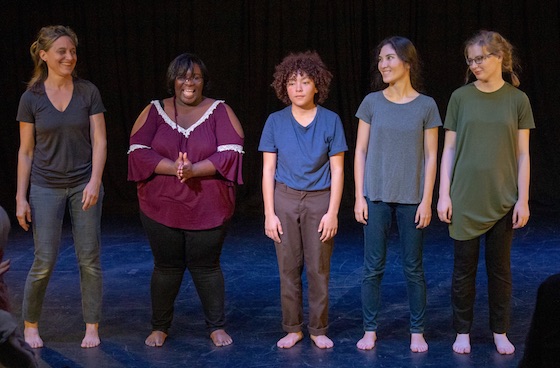 The curtain call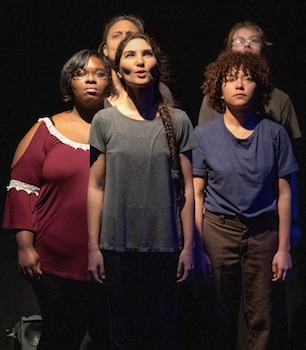 Photos: Mike McNaughton
Event Sponsors: Barbara Lupoff and Dorothy Waldron
Special Event:
Karl Berger and Ingrid Sertso
February
College Hall Music Room and State College of Florida
Creative Music Studio's Karl Berger and Ingrid Sertso gave a free concert of improvisation in College Hall, and they, along with drummer Billy Martin, New College Professor Mark Dancigers, and State College of Florida (SCF) Professor Pete Carney, led an improvisation workshop for New College and SCF students at SCF.
Wet Ink
April
Club Sudakoff
The ensemble Wet Ink returned to New Music New College to cap off our season in Club Sudakoff.
Opening with a new piece by pianist Eric Wubbels appropriately titled modules/relationships—since it is a "modular" piece in which a series of modules are performed, in a different order and in different permutations each time, playing on the relationships between the various players of the ensemble—Wet Ink immediately demonstrated their command both of the material and of their instruments.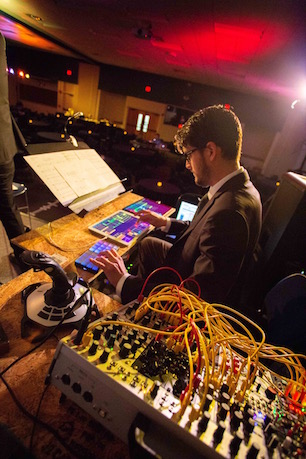 Sam Pluta, with some of his electronics
The ensemble then performed Kate Soper's dramatic, funny, moving, and disturbing Voices From the Killing Jar (video of the first movement to the left of this). The piece uses texts from Lucille Duplessis, Gustave Flaubert, F. Scott Fitzgerald, and Soper herself, among others, to define a range of characters, all in stressful situations.
The players in Wet Ink coaxed incredible sounds from their instruments and voices, and most had multiple roles: Erin Lesser, flutes; Alex Mincek, tenor saxophone; Kate Soper, vocals/clarinet/piano/
percussion; Eric Wubbels, piano/recorder; Ian Antonio, percussion/spoken voice; Josh Modney, violin/trumpet; and Sam Pluta, live electronics/
vocals.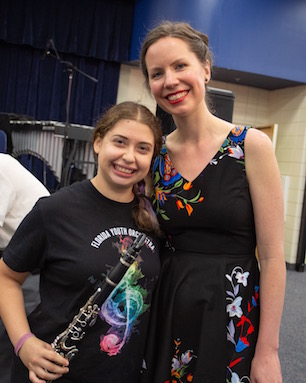 Kate Soper with New College student Rose Schimmel, who leant her clarinet for the performance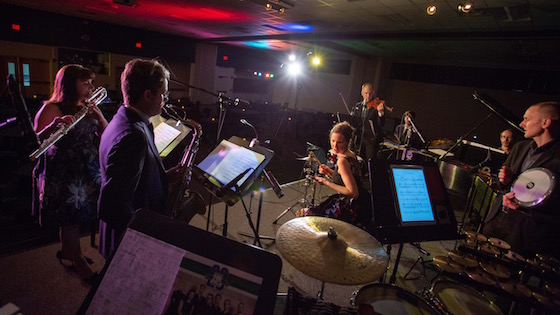 Wet Ink on stage at Club Sudakoff
Video of the first movement of Voices From the Killing Jar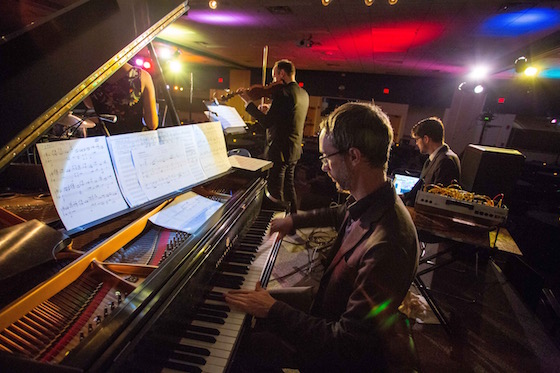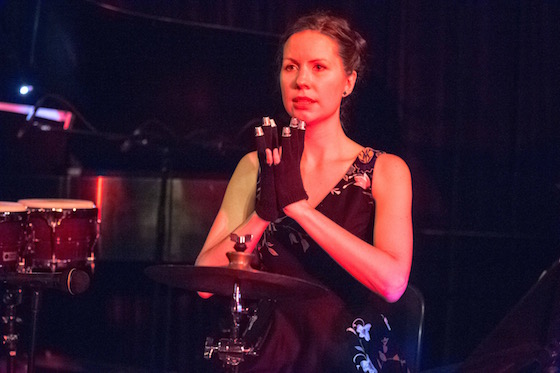 In addition to their concert and Artist Conversation, Wet Ink met with New College student composers to discuss the issues and challenges when realizing new compositions.
Event Sponsor: Linda Buxbaum
Percussion instruments for our October, January, and April concerts were kindly supplied by Florida Percussion Service.
Guitar amplifiers for Sō Percussion kindly supplied by Guitar Center Sarasota. We thank Mack James for arranging the rental.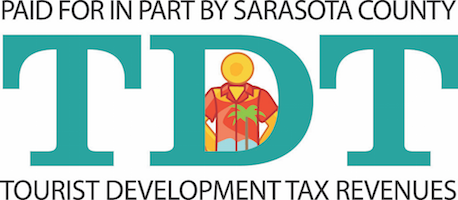 Paid for in part by Sarasota County Tourist Development Tax revenues.
This season was sponsored in part by a grant from the Andrew W. Mellon Foundation.