Who We Are
PRESIDENT'S MESSAGE: On pandemics and injustice
From New College President Donal O'Shea, June 1, 2020
Our hearts go out to the family of George Floyd. And we join in the anger and frustration of being a part of a society that loudly celebrates equality, yet tolerates oppression and injustice, whether it be the violent death of an unarmed man, or the absence of access to health care or quality education because of skin color or economic class.
This pandemic and its disproportionate effect on our black and brown brothers and sisters have exposed the results of our legacy of racism and the cracks in our society. To borrow the words of Bob Dylan's Canadian counterpart, the late Leonard Cohen, we can make sure that those cracks let the light get in.
As members of an educational institution charged with preparing students for lives of great achievement, we owe it to ourselves, our students and the state to model the society that we seek to inhabit, and to equip ourselves and our students with the intellectual tools to recognize and combat the deep systemic racism in our society.
Advisory Board
Joan L. Golub, Chair
Ina Schnell, Honorary Founding Member
Arlene Dunn
Larry Dunn
Bernard Friedland
Renée Hamad
Barbara Lupoff
Francis Schwartz, Ph D.
Melissa Simmons
Mark Dancigers, ex officio
Stephen Miles, ex officio
R. L. Silver, ex officio


New Music New College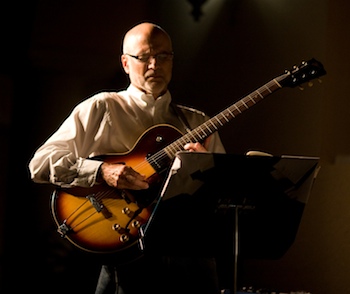 NMNC Director Stephen Miles
Real conversations are unpredictable and unscripted; ideas, questions, and insights emerge as the exchange develops, leading the discussion in unforeseen directions. For the past twenty years, New Music New College has fostered a conversation about contemporary music and performance, a conversation that has included the New College community, the greater Sarasota-Bradenton community, and world-class musicians of every stripe.
NMNC began as a response to a challenge posed by the Ringling Museum. In 1998 the Ringling mounted a major exhibition of Joseph Beuys's multiples and invited us to explore the connections between Beuys and the music of John Cage. The result was a performance of Cage's Song Books, in which each performer followed an independent course through the galleries, while the audience was invited to do the same. The experience for both performers and audience was exhilarating, so much so that the Ringling promptly invited New College to respond to 1999's "Blurring the Boundaries," a comprehensive survey of installation art. Performing near and even inside the artworks, we presented Pauline Oliveros's Sonic Meditations, with most selections involving audience participation. Again, the experience was overwhelming, and seemed to catch all of us by surprise.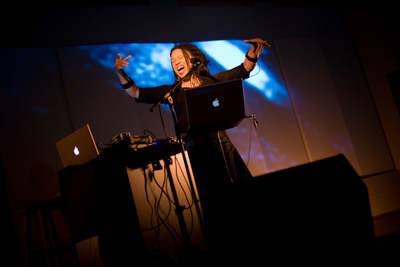 Pamela Z performing in 2009
Looking back on these first performances, the foundational principles of NMNC can be seen: experimental performance creates the opportunity for dialogue; new music comes alive when presented in the appropriate performance space; short and intense performances have maximum impact; and the conversation about contemporary music is richer when it involves the community as well as students, faculty, and staff.
In the years that followed, experimental music provided an experiential frame for exploring questions such as: When is music speech? Speech music? ("Speech Acts," 2000) How does musical performance shape the social experience of performers and audience? ("Social Studies," 2003) How can composition be approached collaboratively? ("Hocket Science," 2004) During these early years, NMNC offered events only once or twice a year, yet the audience of adventurous listeners expanded, as did the conversation.
In 2006 we decided to bring guest artists into the mix and established our current five-concert format. Since then NMNC has welcomed some of the finest musicians working today, such as the JACK Quartet, vocalist-composer Pamela Z, pianist Kathleen Supové, Mantra Percussion, and cellist Darrett Adkins. These musicians have expanded each season's breadth of vision, and have complemented the performances by New College students, faculty, and staff. Without exception, these guest artists have been thrilled by our audience and have enjoyed becoming a part of the intellectually and musically adventurous NMNC community.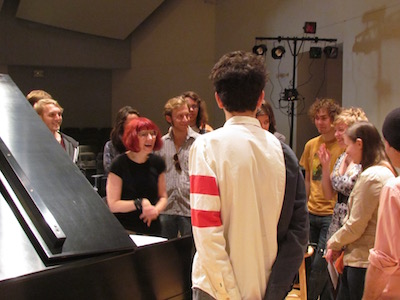 Pianist Kathleen Supové giving a masterclass to New College students in 2012
While the concert series is the most visible aspect of NMNC, it truly is the tip of the iceberg. Each concert is the focus of educational activities, including Artist Conversations and panel discussions. There are courses, such as "Experimental Music in Theory and Practice" that have led to dozens of projects by students (now alumni) such as Silas Durocher, Erica Gressman, Taylor Briggs, and Sarah Moone. New College students and staff have presented papers on NMNC projects at academic conferences, and our projects have been documented in articles in such journals as Perspectives of New Music and TDR: The Drama Review.
For our current season, we're bringing in new artists Yarn/Wire and bringing back JACK Quartet and Jen Shyu. Margaret Eginton and NMNC Director Stephen Miles working with New College students will explore movement and sound in New College's College Hall, and Professors Mark Dancigers and Kim Anderson will create new electronic and visual works with students followed by the unique duet Grand Electric.
Our Pre-concert Talks are at 7:30 (2:30 for the performances in February), to allow audience members who arrive a bit early to catch a preview which will emphasize core themes and context. For those who would like a deeper immersion into the music and greater dialogue with the musicians, we offer our Artist Conversations on Thursdays at 5 p.m.. And stick around after the concerts—we have free post-concert receptions, where artists and audience can interact and continue the conversation.
As we begin this new season, I want to thank our many supporters, our donors, our media sponsors, and of course, New College of Florida for making NMNC the vital organization that it is today. And let's all thank NMNC's Producer, R. L. Silver, for his brilliant work behind the scenes and on stage, and for helping us maintain the highest technical standards in every performance.
What will the future bring? Join our conversation and together we'll find out!
Video of NMNC Producer R. L. Silver talking about New Music New College
Read more about NMNC Director Stephen Miles


Click here to like the New Music New College Facebook page!
New Music New College commits to the We Have Voice Code of Conduct for the Performing Arts. For more information, click here.


Contact Us
Want info on upcoming events? Want to be added to our email and/or snail-mail lists? Contact us by email at events@ncf.edu or phone (941) 487-4888.
Have a response to one of our events? Email feedback@newmusicnewcollege.org.
Sponsors