Advisory Board
Joan L. Golub, Chair
Ina Schnell, Honorary Founding Member
Arlene Dunn
Larry Dunn
Bernard Friedland
Renée Hamad
Barbara Lupoff
Francis Schwartz, Ph D.
Melissa Simmons
Mark Dancigers, ex officio
Stephen Miles, ex officio
R. L. Silver, ex officio


New Music New College
WELCOME!
Contemporary music is a beautiful, riotous, unpredictable field of activity and exploration. Its variety and depth speak to music's mysterious but utterly essential purpose. New Music New College embraces this mystery, and the sense of discovery and exploration in cutting-edge music, and seeks to embed meaningful encounters with contemporary music for all in the New College academic landscape, as well as in Sarasota and in the national community.
A striking feature of New Music New College is that it is much more than a series that presents both leading lights of the contemporary music world and performances by New College students. The series actively combines these elements into an experience that fuses the rigorous and discovery-oriented academics of Florida's Honors College with professional practitioners and community involvement. Our approach is participatory. At our concerts, you may hear the alchemy of a young string quartet tackling a world premiere. You may hear students and faculty compositions for electronics and film. You may hear such events side by side. The Sarasota community has shown remarkable support and affinity for these adventures. Our events occur—take shape—because you are there.

Student and professional performers from 2019's "Images" concert
photo credit: Nancy Nassiff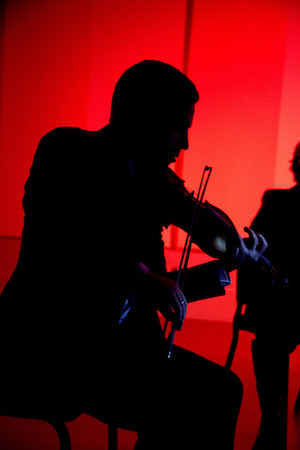 JACK Quartet in 2016
photo credit: Nancy Nassiff
In 2020–2021, we are presenting two virtual series in the fall, and planned in-person concerts in the spring, mostly outdoors. We will be monitoring the safety of our planned spring events together with the New College administration, and it is of course possible that these events will change and become virtual. Please check our website, social media pages, or join our email list so that we can be in touch with you about our plans.
The performing arts and academic communities have encountered incredible challenges these past few months. But who can doubt that music is more vital than ever? Contemporary music offers inspiration, fresh perspectives, new territory of consciousness, a sense of connectedness, marvels of artistry. To say it again: essential. We appreciate the fantastic support from New College, the Tourist Development Council, the Mellon Foundation, and our numerous supporters at every level, for making this season possible. We are so fortunate for the generosity of so many.
Join us this year!
Our fall will offer many opportunities to connect through our two virtual series:
The New Sonic Field: Music from and Conversations with New College Alums
Movement Messages: Digital Dance and Music featuring a world premiere by Leymis Bolaños Wilmott, José Martínez's 39 Inside, and works by New College Students
Both series will begin releasing digital content in October 2020.
In the spring, we will be presenting the incredible flutist Claire Chase, a concert featuring student and local musicians titled Workers Union: Music of Louis Andriessen and Nik Bärtsch, and fierce piano star Vicky Chow.
Come and be a part of the joy, the riot, the discovery, and the mystery.
About NMNC Director Mark Dancigers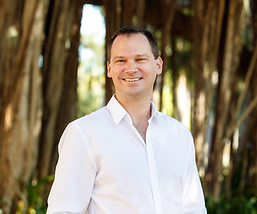 NMNC Director Mark Dancigers
photo credit: Casey Brooke Lawson
Video of NMNC Producer R. L. Silver talking about New Music New College


Like the New Music New College Facebook page!
New Music New College commits to the We Have Voice Code of Conduct for the Performing Arts.


Mission Statement
New Music New College explores and celebrates contemporary music-making as a shared-learning laboratory for New College of Florida, the greater Sarasota community, and the world at large.
Contact Us
Want info on upcoming events? Email info@newmusicnewcollege.org.
Want to be added to our email and/or snail-mail lists? Contact us by email at events@ncf.edu or phone (941) 487-4888.
Have a response to one of our events? Email feedback@newmusicnewcollege.org.
About New College of Florida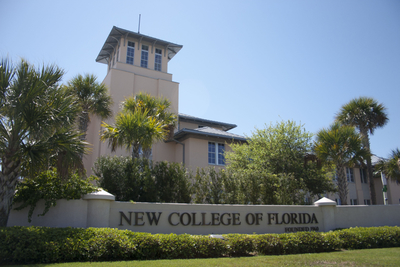 New Music New College would not exist without New College of Florida, and indeed the two are intertwined. For beyond presenting world class contemporary music to the Sarasota community, NMNC is dedicated to enlarging the academic experience for New College students.
At around 850 students, and with a ten-to-one student-to-faculty ratio, New College provides a challenging and intense learning environment with opportunities for individualized journeys through the world of the liberal arts. There are no grades at New College—narrative evaluations provide meaningful feedback to our students. And each student works with his or her advisor to choose a course of study.
New Music New College offers opportunities for New College students to work with some of the leading practitioners of contemporary music, as well as composing and performing. Our experimental concerts are integrated into the academic curriculum. And we see our concerts as a site for the greater Sarasota community to intermingle with New College students, faculty, and staff.
Learn more about New College of Florida.
NMNC Sponsors